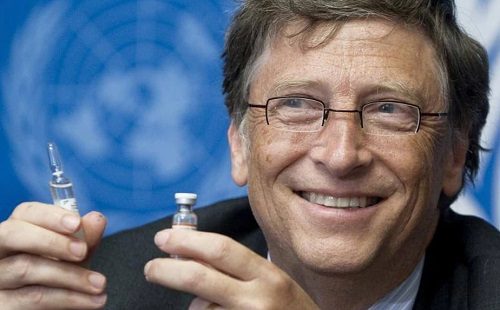 Bill Gates is still warning and pushing new COVID-19 scare tactics. Gates, who is heavily invested in a vaccine for the coronavirus scamdemic wants everyone to fear the second wave because this fall will be worse than the summer.
"The fall is going to be worse than the summer," Gates told POLITICO. "All the numbers are ticking up and there was always a very good chance … that we would see more transmission. Until the new tools come … all we have is our behavior, wearing masks." New tools, meaning the vaccine.
Are Face Masks & COVID Rituals Occultist Symbols For Submission?
There are over 7 million confirmed cases in the U.S., and at least 210,00 people have died. According to the White House Task Force, 26 states are now in the coronavirus "red zone" for new cases this week, with 24 in the "yellow zone" and none in the "green zone." Is anyone surprised? They pretty much told us we'd have to deal with the invention of a second wave.
Gates and his wife, Melinda, run the Bill and Melinda Gates Foundation, which has donated hundreds of millions of dollars towards coronavirus research, treatment, and testing, along with the search for a vaccine.

Earlier this year, Gates laid out a three-part plan for eliminating coronavirus: developing the capacity to make the necessary vaccines, obtaining the funding to pay for the vaccines, and creating a system to deliver the vaccines worldwide.

"To beat the COVID-19 pandemic, the world needs more than breakthrough science," Gates said in a previous statement. "It needs breakthrough generosity. When COVID-19 vaccines are ready, this funding and global coordination will ensure that people all over the world will be able to access them. –Yahoo News
Censorship: Facebook Bans Anti-Vaccine Ads Ahead of COVID Vaccine Rollout
Bill Gates Warning: "We'll Have a Deadlier Pandemic"
"It's very impressive how the pharmaceutical industry has diverted resources, gotten involved," Gates told NBC's Chuck Todd. "The U.S. government, this is one category we've actually done a decent job, has funded the research here."