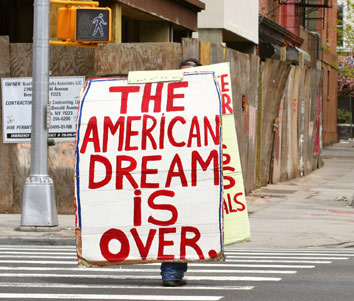 Too many are losing too much too fast.
A new study has found the American Dream dead, under apparent delusions of grandeur and with heavy traces of pharmaceuticals and dead tissue debt. Several large tumors were found inside, with the largest connected to student loan.
A rapid decline in upward job opportunities and a contracting wealth gland stunted the Dream, and precluded the inevitable end. It seems that body's metabolism simply could not keep up with the burden of so many adverse indicators, including decreased blood flow and metastatis throughout various parts of the body politic. Lethargy and idleness contributed towards a loss of strength. The rest was a consequence of chronic debilitation.
Middle-class families, pillar of the American dream, are no longer in the majority, and it's now official according to the Pew Research Center… Things have been on a downward slide since the deindustrialization of the 1970s, but things have now reached a point of no return.
Via the LA TIMES:
The nation's middle class, long a pillar of the U.S. economy and foundation of the American dream, has shrunk to the point where it no longer constitutes the majority of the adult population, according to a new major study.

The Pew Research Center report released Wednesday put in sharp relief the nation's increasing income divide […]

The tipping point for the middle class occurred over the last couple of years of the recovery from the Great Recession as the economy continued to reward highly educated workers, well-to-do investors and those with technical skills.

Rapid growth of upper-income households, coupled with an increase in less-educated low earners, has driven the decline of the middle-income population to a hair below 50% of the total this year, Pew found. In 1971, the middle class accounted for 61% of the population, and it has been declining steadily since.

[…]

Pew defined middle class as households earning two-thirds to twice the overall median income, after adjusting for household size. A family of three, for example, would be considered middle income if its total annual income ranged from about $42,000 to $126,000. Pew analyzed data from the Census Bureau and the Labor Department, as well as the Federal Reserve.

Most Americans have traditionally identified themselves as middle class, even those at the top and bottom, reflecting a kind of cultural heritage tied to the American dream of self-reliance. But the Great Recession and subsequent slow recovery have shaken that image.

A Gallup survey this spring showed that just 51% of U.S. adults considered themselves middle or upper middle class, with 48% saying they are part of the lower or working class. As recently as 2008, 63% of those polled by Gallup said they were middle class.
With the relatively low thresh hold established for being counted as part of the middle class, it is staggering how many people no longer qualify. It shows just how many Americans are becoming poor or increasingly desperate to make ends meet.
It is no surprise either that many Americans who officially qualify for the middle class feel that they are too insecure, financially, to belong to the well-adjusted norm of "middle class":
Elizbeth Espinoza and her husband, Carlos Arceo, both 38, fall squarely in the middle class, according to Pew. The Downey couple, who have two children, ages 4 and 6, gross about $110,000 between them, not counting benefits, such as healthcare insurance. By Pew's definition, a household of four is in the middle tier if total income is $48,347 to $145,041.

But Espinoza, who works as a student programming coordinator at the UCLA Labor Center, sees her family as barely straddling the middle class. The reason: high living costs, including $850 a month for child care and hefty student loan payments.

"I'm on the border of middle class, and I feel this way because I feel like being part of the middle class means being comfortable financially, and I think we struggle with that," Espinoza said. "When you look at that expense-to-income ratio, it's just a lot more difficult to have that comfortableness."
This point is not lost on most Americans, but rather a difficulty that nearly everyone seems to be facing right now.
Paying for necessities is becoming rapidly more expensive and costly in housing, food and goods – and that isn't helping anyone back into the calm waters of a vibrant and healthy middle class.
Instead, further trouble is ahead, and nearly any economic shock could force millions of families to come unglued and driven into desperation.
Things have gone too far, and it won't be good for the rich at the top of heap either when everything comes undone. We are facing an absolute disaster.
Read more:
Billionaire: "We Are Destroying the Middle Class. That's What Keeps Me Awake at Night."
What Middle Class? Most Americans Make Less Than 30K A Year: "So Many People Barely Scraping By"
As the Middle Class Dies, Millennials Give Up: "The American Dream Is Not Really Alive"
What American Dream? "The Middle Class Is Dying And Poverty Is On The Rise"