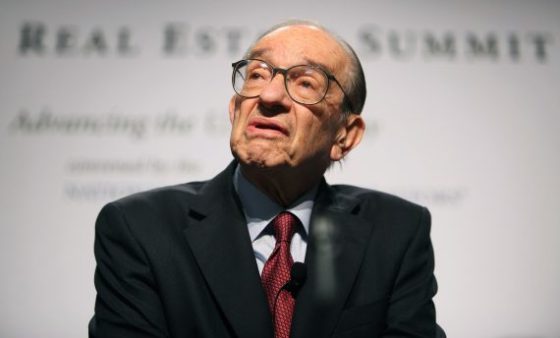 Former Federal Reserve chairman, Alan Greenspan has taken to blasting president Donald Trump's tariffs, which have flung the United States into a full-fledged trade war with China.  Greenspan says that Trump's policies on tariffs are "insane."
When responding to a question about the trade war with China at an event at New York University on Wednesday, Greenspan said both sides lose out in such an economic battle.  "There are victors and there are losers in a tariff fight," Greenspan said. "But that doesn't say that a more important issue is both are losing, it's just the winner loses less." According to Bloomberg, Greenspan was also confused as to the reason why the Trump administration insists on economic destruction. "Why we're doing it [imposeing tariffs] probably is very deep in the psyche of somebody," Greenspan said.
Greenspan said the notion that China would outrace the U.S. in all economic respects "is a mistake," pointing to their lower gross domestic product per capita. The U.S. and China have each levied several rounds of tariffs on each others' goods, and tariffs on $200 billion of Chinese imports are due to rise to 25 percent in January in the absence of a breakthrough in negotiations.
With the end of the year quickly approaching, there have been talks of the two sides attempting to come to a consensus, however, progress is incredibly slow.  It's becoming a very high likelihood that the tariffs will increase in January further pinching the wallets of the average American.
"It's an excise tax, and people think of tariffs other than what it is," Greenspan said. "It's a tax, and everybody engaged in warfare of this type, it would mean that you're withdrawing credit or purchasing power from a whole series of countries."
The Chinese are allegedly attempting to dissolve the trade war with Washington, however, it's a long road, and not a road president Donald Trump looks too intent to budge from at this time.