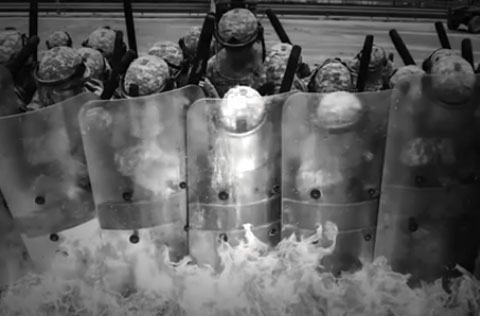 Will martial law be declared on American soil?
Will economic collapse and urban riots result in the final and total loss of civil liberties right here at home?
It could happen, and it is one of the "eventualities" that the military is preparing for, though they are constitutionally barred from being used domestically against the American people.
Part of the U.S. Army's latest ad campaign, broadcast frequently during football games and sporting events, and widely across many television programs, includes a 30-second spot that shows soldiers training with shields used for domestic riot control.
Watch the ad; the riot shield appear from about :10-:13 seconds in:
The overall surface message of the commercial is intended to show a force operating across the globe in many capacities, many of which reflect an empire that has gone too far.
But how many  television viewers stopped to contemplate why the Army is training for crowd control and riots?
You Tuber Texas Shrugged Book points out that there are few overseas missions, if any, where soldiers would be engaged in these activities – and perhaps NO legitimate missions for this training here on U.S. soil.
Watch his analysis below:
Texas Shrugged Book says:
"The language they used over this picture was 'We train for ANY eventuality.' Now, again, most Sheeple watching this are going, 'What's the problem? What's wrong with this picture?' This is riot and crowd control, folks. 'So, so what? So, the Army needs to do that.' No they don't need to do that, you dumb Sheeple idiots. No they don't. Army's role traditionally, from the founding of this nation, is to take out the enemy's soldiers, planes, tanks, armaments, munitions, etc. – to kill on the battlefield… That's what they do."

"Now, I know they've been used in some weird, twisted roles like Green Zone Baghdad and some weird things, and that the psychos that run this country are trying their best to bastardize the role of the U.S. Army, but nevertheless, think about this: This is riot and crowd control."

Is it coming to an American city near you? Well, there's no international application where the Army does this. The Army doesn't take to the battlefield with these shields. This is not battle training. This is riot control. Crowd control. And what looks creepy to me is domestic riot control, crowd control, martial law or Jade Helm training."

"The Marines protect our embassies overseas; the Army does not operate in riot and crowd control… you have a 30 second commercial here, folks. You want to use this as a major part of your 30 second commercial, when there are thousands of other positives you could show about the role of the U.S. Army? Why do you show us this? It's creepy; I'm questioning it, but now I'm glad they've showed it to us because we can see where things may be going."
And the point is a good one – not only is training like this going on, but the U.S. Army has decided to promote this aspect and prepare the population to accept it if/when it is used here at home.
Using it in real life would violate some of the civil rights that American hold most dear; but on the other hand, how many scenarios are we away from seeing the powers that be suspend or simply ignore the constitution.
Could martial law happen here? While no one knows the future, it is entirely possible that riots in Ferguson and other cities are just the beginning, and that this type of chaos could spread nationwide at any given moment.
Will the next wave of economic collapse trigger this dismal Endgame, or will Obama provoke the nation once again into civil unrest?
No one knows, just be ready for all eventualities.
Also Read:
Prepare For Any Disaster: A Step-By-Step Guide
Mark Levin: Government Is "Simulating the Collapse of Our Financial System, the Collapse of Our Society and the Potential for Widespread Violence"
Analyst: "Millions Upon Millions of People Are Going to Die on a World-Wide Scale When the Debt Bubble Bursts"
Military Forecast for 2025: Economic Collapse Will Lead to Massive 78% Depopulation in America
Is America On the Brink of a Civil War? "If We Defend It Together, We Can Avoid Bloodshed"