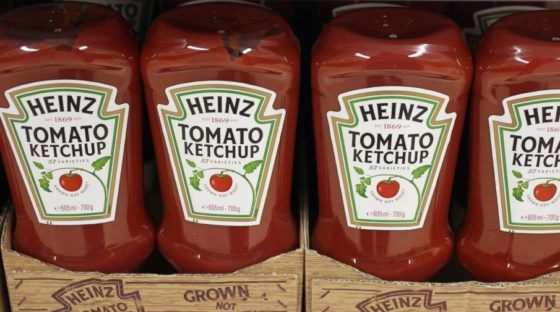 Kraft-Heinz is just one of many companies exposing the United States' corporate debt problems. The food empire has been drowning itself in debt, spending money it hasn't earned yet.
Heinz took on debt when the ketchup giant agreed to be purchased for $28 billion in 2013 by a consortium including Warren Buffett's Berkshire Hathaway and private equity firm 3G Capital. But just because Buffet is backing the food giant, that doesn't mean poor decisions weren't made when it comes to debt and equity. CNN even highlighted the problems with Kraft-Heinz, showing how some rather serious missteps have brought its bloated balance sheet into sharp focus.
Back in February, Kraft-Heinz posted a massive loss of $12.6 billion and warned that 2019 profits will tumble. It's stock price plummeted 27% the next Friday following the loss posting.  But this is all very similar to other major corporations having a massive debt load.  Some have been liquidating fairly quickly.
https://www.shtfplan.com/headline-news/retail-apocalypse-worsens-some-major-stores-are-on-deathwatch_03062019
Kraft-Heinz, the owner of Oscar Mayer, Velveeta, and Planters nuts, is now scrambling to raise the necessary cash to pay down its nearly $31 billion of long-term debt. The food giant slashed its dividend by 36% and announced plans to sell off brands, reportedly including the Maxwell House coffee business. "Its balance sheet has ballooned," JPMorgan Chase analyst Ken Goldman wrote in a report late last week.
This is only one company that is helping shine a light on the corporate debt crisis that's dissolving retailers right before our eyes. During the past decade, corporations in the United States have taken on a major debt load in the era of low interest rates.  Much like private debt, the cheap money has caused the amount of debt to skyrocket, putting any company at risk during a profit loss. Kraft Heinz, for example, is sitting on $30.9 billion of long-term debt, up from $28.3 billion a year ago. That amounts to a sizable leverage multiple of 4.4 times the company's 2018 adjusted earnings.
The mountain of debt continues to impair Kraft-Heinz earnings and other companies should take notice.  We, as a nation, as companies and corporations, and individuals are not borrowing ourselves richer.  In fact, quite the opposite.
https://www.shtfplan.com/headline-news/peter-schiff-were-not-borrowing-ourselves-rich-were-borrowing-ourselves-broke_03192019