This article was originally published by Daisy Luther at The Organic Prepper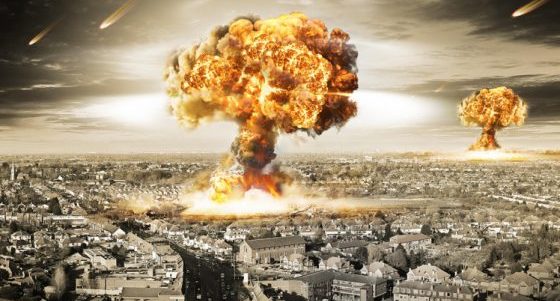 Recently, the news has been all abuzz with teen activists who want to take away our guns but refuse to use clear backpacks, the Facebook privacy scandal, and how someone bit Beyonce in the face. But there are three recent events that aren't getting much press which tell us it is entirely possible that we could be headed toward World War III at worst and toward an economic collapse at best.
During the election, it really seemed as though Hillary Clinton as president would be a much more likely path to World War III. She even gloated of the actions she planned to take that would have led directly and immediately to war. Donald Trump as president seemed less likely to get us into a war with Russia, but it appears the tides may have turned back in that direction.
#1) The Trade Tariffs
We're already at financial war with China due to punitive trade tariffs that our governments are instituting on one another. President Trump wants to rebalance global trade in America's favor, and China isn't going to go down without a fight. Here's more information on the list of tariffs the US wants to charge for Chinese merchandise and the retaliatory list from China.
The last time we were involved in a major trade war, the Great Depression happened, according to an economics expert for CNN.
America's last trade war exacerbated the Great Depression in the 1930s, when unemployment rose to 25%. Claiming it was protecting American jobs, Congress passed the Smoot-Hawley Act in 1930. The original bill was meant to protect farmers. But to build political support, many lawmakers asked for tariffs — or taxes — on all sorts of goods in exchange for their vote.
Several nations, such as Canada, slapped steep tariffs — or taxes — on US goods shipped and sold abroad. For example, US exports of eggs to Canada fell to 7,900 in 1932 from 919,000 in 1929, according to Doug Irwin, a Dartmouth professor and former trade adviser to President Reagan.

The result: US imports fell 40% in the two years after Smoot-Hawley. Banks shuttered. Unemployment shot up. Surely, there were a litany of factors at play. But economists widely agree Smoot-Hawley made the Great Depression much worse than otherwise. (source)
And what happened at the end of the Great Depression? World War II happened, and this ended the unemployment and resulted in a spending frenzy that pumped up the economy. There's always an increase in the GDP during wartime due to defense spending. But that is one hell of a bad way to fix the economy, don't you think?
#2) The PetroYuan
As of Monday, March 27th, the US has lost petrodollar status. The petrodollar now has competition in the form of the petroyuan. What this means is that previously, the only way anyone in the world could buy oil was to use US dollars to do so. This kept the value of our currency high. But now, Russia and China are buying oil using the yuan. Others may soon follow because the United States has ticked off a majority of the planet in the past century.
What does this mean for Americans? Inflation. Major inflation. If our dollar is worth less on the global scale, it means that anything we import is going to cost more. If you want the super-detailed economic explanation, this article and video will provide the in-depth info you want on the history and potential collapse of the petrodollar.
Many articles have been written about the possibility that the United States will go to war to protect the petrodollar status. This one is a good read. For a quick explanation, watch this video.
#3) Kicking Out the Russian Diplomats
We also kicked 60 Russian Diplomats out of the United States because Russia was accused of poisoning their own spy on British soil.
Trump took the action after the US joined the United Kingdom in accusing Russia of attempting earlier this month to murder a former Russian double agent and his daughter using a nerve agent in the town of Salisbury, England. The action comes just 11 days after the Trump administration leveled the first sanctions against Russia for its interference in the 2016 US presidential election.

"The United States takes this action in conjunction with our NATO allies and partners around the world in response to Russia's use of a military-grade chemical weapon on the soil of the United Kingdom, the latest in its ongoing pattern of destabilizing activities around the world," White House press secretary Sarah Sanders said in a statement. (source)
Russia, the world's favorite scapegoat recently, denies responsibility for the poisoning.
"It's complete drivel, rubbish, nonsense that somebody in Russia would allow themselves to do such a thing ahead of elections and the World Cup," Putin told supporters after winning a fourth term as president.

"We have destroyed all chemical weapons," he added, rejecting Britain's claim that only Moscow could be behind the nerve agent attack on former double agent Sergei Skripal and his daughter Yulia. (source)
As for the dozens of Russian diplomats expelled from countries around the world, Russia has promised a response.
RIA Novosti reports an unnamed foreign ministry official protested the decision by EU, NATO nations to expel envoys, and  confirmed that Russia will respond to each country expelling diplomats, warning that the "expulsions won't go unanswered."

"Unfriendly" action won't be left unanswered.

U.K.'s allies are "blindly following" principle of Euro-Atlantic unity at the expense of common sense.

Additionally, Russia's ambassador to Washington, Anatoly Antonov, said that, with regard to the US response, "US only understand force."

"I mentioned in my statement in the State Department that I consider these actions counterproductive," Antonov said.

"I said that the United States took a very bad step by cutting what very little still remains in terms of Russian-American relations." (source)
Whether Russia was responsible for the poisoning of their former agent or not, this incident and the response could lead to…you guessed it…war.
President Trump Seems to be Building a War Cabinet
If Russia and China decide to team up, it's a safe bet they won't just be making passive aggressive comments about the US. We can look for a brutal and decisive attack. Whether the United States strikes first or gets hit first would be the only thing in question.
Whatever the case, it looks like the White House is expecting war.
There was more upheaval in Washington DC last week when President Trump replaced his National Security Advisor. Many people were shocked when Trump booted H.R. McMaster and replaced him with an avid Warhawk, John Bolton.
"I am pleased to announce that, effective 4/9/18, @AmbJohnBolton will be my new National Security Advisor. I am very thankful for the service of General H.R. McMaster who has done an outstanding job & will always remain my friend. There will be an official contact handover on 4/19."

"The two have been discussing this for some time. The timeline was expedited as they both felt it was important to have the new team in place, instead of constant speculation," a White House official said. "This was not related to any one moment or incident, rather it was the result of ongoing conversations between the two." (source)