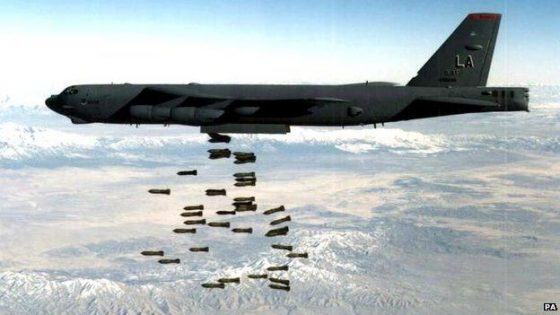 The United States Air Force is preparing to put nuclear-armed bombers back on 24-hour ready alert, a status not seen since the Cold War ended back in 1991. The Air Force is said to face this decision due to a changing geopolitical environment.
It isn't just North Korea's rapidly advancing nuclear arsenal that has the Air Force planning to "fire up" the long-dormant concrete pads at the ends of this base's 11,000-foot runway.  Those pads are dubbed the "Christmas tree" for their angular markings and will probably soon once again find several B-52s parked on them, laden with nuclear weapons and ready to take off at a moment's notice partly because of the heightened rhetoric between Washington and Pyongyang. But the military is also concerned about Russia's increasingly potent and active armed forces, according to Defense One.
The long-range bomber can also unleash both nuclear and precision-guided conventional ordnance, but the military insists this is for preparations only. "This is yet one more step in ensuring that we're prepared," said General David Goldfein, Air Force chief of staff,  in an interview during his six-day tour of Barksdale and other U.S. Air Force bases that support the nuclear mission. "I look at it more as not planning for any specific event, but more for the reality of the global situation we find ourselves in and how we ensure we're prepared going forward."  Goldfein and other senior defense officials wanted it stressed to the public that the alert order had not been given just yet, but the preparations were already underway in anticipation that it will come.
Goldfein also noted that in a world where "we've got folks that are talking openly about [the] use of nuclear weapons," it's important to remain alert and think of new ways to be prepared.
That decision will eventually likely be made soon by General John Hyten, the commander of U.S. Strategic Command (or  STRATCOM, is in charge of the military's nuclear forces or General Lori Robinson, the head of U.S. Northern Command (NORTHCOM, which is in charge of defending North America.)  Meanwhile, Goldfein, who is the Air Force's top officer and a member of the Joint Chiefs of Staff, is asking his force to think about new and inventive ways that nuclear weapons could be used for deterrence, or even in combat.
"It's no longer a bipolar world where it's just us and the Soviet Union. We've got other players out there who have nuclear capability. It's never been more important to make sure that we get this mission right," Goldfein said.