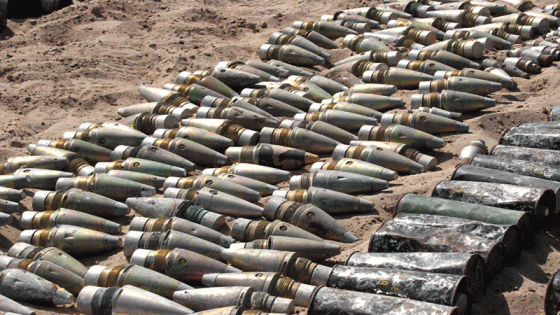 While the focus on North Korea has been their improvement of missiles and a potential nuclear strike against the United States, many have missed an equally sinister weapon lingering in the rogue nation's arsenal.  And experts say that it's time to take notice of it.
Experts say there's another weapon in Pyongyang's arsenal the globe should keep a very close and watchful eye on. "Nuclear weapons are not the only threat," Kelsey Davenport, director of non-proliferation policy for the Arms Control Association told the McClatchy Washington Bureau. "North Korea could respond to a U.S. attack using chemical weapons. That would be devastating."  And according to Fox News, Kim Jong Un's military has been collecting large stockpiles of nerve agents, such as sarin and VX, which is the most dangerous and potent of all nerve gas agents.
North Korea could always choose a chemical attack, rather than a nuclear one; one that could target U.S. military bases in the region and large cities like Seoul and Tokyo, according to a new report. Pyongyang denies that they have chemical agents, yet back in May, it was reported that the UN was helping North Korea obtain a patent for a banned nerve gas agent.
For more than a year, a United Nations agency in Geneva has been helping North Korea prepare an international patent application for production of sodium cyanide. Sodium cyanide is the main chemical agent in the nerve gas, Tabun, and it's currently banned in North Korea by the UN. -The Daily Sheeple
North Korea began the production of chemical weapons in 1961 amongst rising tension at the time. The Korea Research Institute of Chemical Technology reports that the country has four military bases equipped with chemical weapons and at least 11 facilities where they are produced and stored.
"Compared to the nuclear threat, which involves, a finite number of warheads and delivery systems vulnerable to air defenses and anti-missile systems, the chemical threat is not as easily negated," military analyst Reid Kirby wrote in the Bulletin of Atomic Scientists.
There was a slight de-escalation of tensions with North Korea when the dictator decided to back off his threat of attacking the island nation of Guam. However, the fact that the rogue nation has an arsenal of chemical weapons isn't sitting well with those at the top.