Forecasting isn't an exact science, but researches at the New England Complex Systems Institute may have come up with a formulaic approach that can help them to identify risk factors that contribute to political instability which may lead to riots and civil unrest similar to what we saw in the Middle East this year.
Their model is so accurate that they reportedly wrote a letter to the United States warning of imminent danger just days before the mid east and north African riots broke out:
On 13 December last year, the group wrote to the US government pointing out that global food prices were about to cross the threshold they had identified. Four days later, Mohamed Bouazizi set himself on fire in Tunisia in protest at government policies, an event that triggered a wave of social unrest that continues to spread throughout the middle east today. (source)
Using advanced complexity theory the researchers have come up with a number of indicators that can predict when a population reaches its breaking point. Specific details and assessments are provided in The Food Crises and Political Instability in North Africa and the Middle East [pdf]:
When the ability of the political system to provide security for the population breaks down, popular support disappears. Conditions of widespread threat to security are particularly present when food is inaccessible to the population at large. In this case, the underlying reason for support of the system is eliminated, and at the same time there is "nothing tolose," i.e. even the threat of death does not deter actions that are taken in opposition to the political order. Any incident then triggers death-defying protests and other actions that disrupt the existing order.

Widespread and extreme actions that jeopardize the leadership of the political system, or the political system itself, take place. All support for the system and allowance for its failings are lost. The loss of support occurs even if the political system is not directly responsible for the food security failure, as is the case if the primary responsibilitylies in the global food supply system.
The following chart provides a visual guide: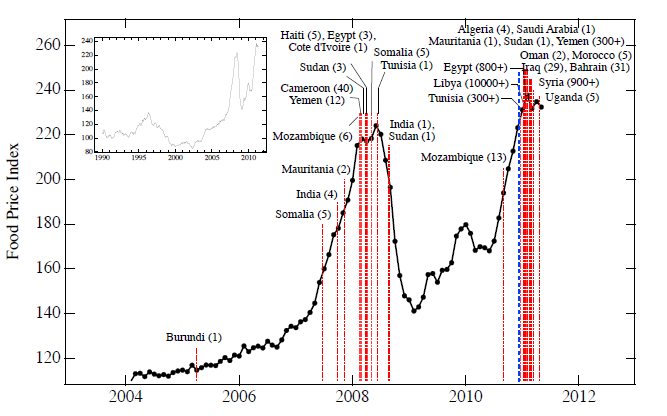 (View Larger Image)
Chart Explained: Time dependence of FAO Food Price Index from January 2004 to May 2011. Red dashed vertical lines correspond to beginning dates of "food riots" and protests associated with the major recent unrest in North Africa and the Middle East. The overall death toll is reported in parentheses. Blue vertical line indicates the date, December 13, 2010, on which we submitted a report tothe U.S. government, warning of the link between food prices, social unrest and political instability. Inset shows FAO Food Price Index from 1990 to 2011.
The group, led by researcher Marco Lagi, is now warning that their thresholds are about to be broken again. And, this time the implications may be much more serious than before:
The underlying trend of increasing prices will reach the threshold of instability in July 2012, if we consider current prices, and April 2013 if we correct prices for reported ination. Either way, the amount of time until the often warned global food crises appears to be very short. Indeed, consistent with our analysis, the current food price bubble is already subjecting large populations to reported distress, as described in a recent UN report warning of the growing crisis.

…

We identify a speci c food price threshold above which protests become likely. These observations suggest that protests may reect not only long-standing political failings of governments, but also the sudden desperate straits of vulnerable populations. If food prices remain high, there is likely to be persistent and increasing global social disruption. Underlying the food price peaks we also fi nd an ongoing trend of increasing prices. We extrapolate these trends and identify a crossing point to the domain of high impacts, even without price peaks, in 2012-2013. This implies that avoiding global food crises and associated social unrest requires rapid and concerted action.
It's clear that Lagi and his colleagues have done the work, and their data make sense, especially given what we've seen geo-politically over the last year. Given the way government has thus far attempted to mitigate this economic crisis – which is to make it worse – we are pessimistic about their ability to stop the rising food price trend, and the loss of confidence that will be sure to follow.
As such, the analysis provided suggests that instability due, in large part, to rising food prices is imminent and we have, at best, twenty months before riots and civil unrest come to the streets of America.
Now would be a good time to speed up your SHTF Plans.
References: Cornell University Library, What Really Happened