For those excepting a hyper-inflationary destruction of the US dollar at some point in the future, you might consider hanging on to your US dollars – at least some of them. There may still be a use for them post-collapse, as highlighted in the following real-life survival story:
A snowshoer who was lost in a blizzard for two days on Washington state's Mount Rainier said he stayed alive by digging out a snow tunnel and burning the dollar bills for warmth.

Yong Chun Kim, 66, of Tacoma, said he carried a lighter and other emergency supplies and burned personal items: extra socks, Band-Aid, toothbrush, packaging, and lastly $1 and $5 bills from his wallet.

Kim, who served in the South Korean military in the Vietnam War, told KOMO-TV in Seattle that skills he learned as a soldier helped him survive. He said he wasn't scared. He kept waiting for the sounds of the helicopter — though severe weather conditions prevented park officials from using one to search for Kim.

"I'm a lucky man, a really lucky man," he said in an interview Tuesday afternoon from his home.

With temperatures in the teens and winds whipping on the mountain, Kim said he kept walking and moving to stay warm. He took cover in several tree wells — depressions in snow that forms around a tree — and slept standing for 5 to 10 minutes at a time.

He initially made a shelter near a big rock and tried to stay warm. He tried to keep walking, but at times "the snow was so deep, I couldn't breathe."

…

And even as he burned his personal items to say warm, the last $6 going up in flames Sunday night, he said: "I worried because it's a national park. You're not supposed to have a fire. … I'm worried about that but I want to (stay) alive."

Money made for the best fire, he said, laughing. Nylon socks and packaging, not so great.

…

"He was determined," An said. "He kept saying, he is not going to die unless God thinks he should. All he did was try to survive."

Source: ABS News via AP
US Dollars…an excellent kindling substitute, recommended by a true survivor.
Additionally, if you ever find yourself out of Charmin, the use of dollars as toilet paper has been highly recommended by survivalists and economic analysts alike: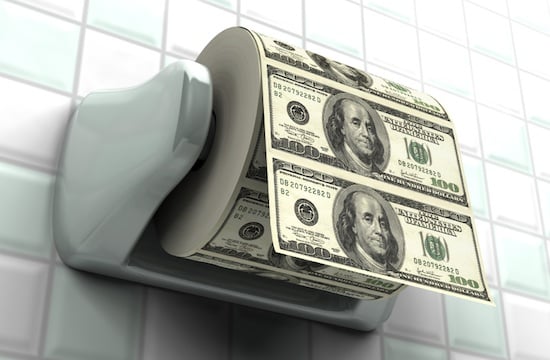 So, if the worst happens, perhaps it's not such a bad idea to stock some of those crisp $10 bills in a #10 can, because you just never know.