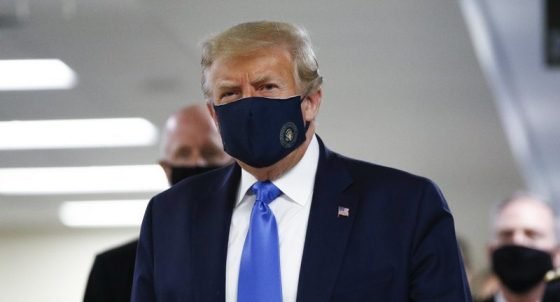 The mainstream media is having a blast with president Donald Trump's admission that he tested positive for the coronavirus. The media is jumping on this because Trump has "downplayed" the severity of the virus and refused to issue a nationwide mask mandate upsetting those who want totalitarian control over others.
The president's result came after he spent months playing down the severity of the outbreak that has killed more than 207,000 (based on inaccurate tests) in the United States and hours after insisting that "the end of the pandemic is in sight," reported the New York Times.
The White House physician assured everyone that the president and first lady, who also tested positive, are both feeling fine. "The president and first lady are both well at this time, and they plan to remain at home within the White House during their convalescence," Dr. Sean P. Conley, the White House physician, said in a statement, adding: "Rest assured I expect the president to continue carrying out his duties without disruption while recovering, and I will keep you updated on any future developments."
The New York Times also blasted Trump for refusing to wear a mask:
For months, Mr. Trump has refused to wear a mask in public on all but a few occasions and has repeatedly questioned their effectiveness. And as recently as Tuesday, at their opening debate, he mocked Mr. Biden for wearing one. "I don't wear masks like him," the president said, his voice dripping with derision. "Every time you see him, he's got a mask."
Trump seems fine, yet the media is talking about how he's in the "high risk" category.  While Trump has been reported to have high cholesterol and tips the scale at 243 pounds, which is considered obese for his height, Dr. Conley, his physician, pronounced Mr. Trump in "very good health" last year after his last full medical checkup.
In all likelihood, the media is blowing this completely out of proportion. But you never know, it could be much worse than that This could also be a false flag. We live in the strangest of times and it's hard to tell if this is not another psyop or something else much worse. Stay alert and focused. This issue definitely is something that needs to be watched. The telltale signs of this being another psychological operation are all over this.
If you would like a little more information on that possibility, please watch the following video: