If you're wondering what security measures will exist if the SHTF, Survival Blog provides an answer: none, unless you actively create them yourself.
Recently a writer was predicting the way the police will respond and in this area I would like to add what I know and what I predict. A retired trooper friend and I have polled both active officers at the state, city and parish (county) level. I have worked with Houston PD, Texas DPS, Baton Rouge PD and New Orleans PD. The results of the questions all reveal the same thing. Very, very few active officers even think about TEOTWAWKI [The End of the World as We Know It]. Not only is it not on their radar there are no contingency plans should it become a problem. On the retired side preparedness or awareness is at best 50/50. I think that many Americans will be surprised with the answer many serving officers gave when asked what they will do if TEOTWAWKI ever occurs: Almost to a person they respond they will go home and protect their families or G.O.O.D. [Get Out Of Dodge] As far as protecting anyone else? Forget it. There are no contingencies to bring families in to the department or is there room.

…

I was able to prevent looting on my dead end street during Hurricane Rita solely because I had a rifle and was preparing to employ it when the looters made haste. I stood on my corner for an hour and a half before a deputy came along (no phones-cell or land line). He instructed me to shoot the next looters I saw.

source: No Law Enforcement in TEOTWAWKI by Ron M.
[Emphasis added]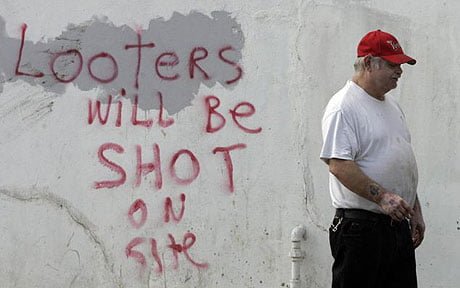 Hurricane Katrina – Warning to Looters
We've discussed this before, and it's worth covering again.
In a real SHTF scenario, be it man-made or natural, when grocery store shelves are empty, riots break out, and hoodlums start wandering suburban neighborhoods looking for victims, the response time from 911 will be measured not in minutes, but hours or days – if at all.
If you are prepared to handle a food crisis, currency crisis or a down-grid scenario, then one of your primary preparedness tools will be self defense weaponary.
Bottom line: If you can't protect it, you don't own it.
Several readers responded to the Survival Blog article, all were in agreement:
Most of the friends I've talked with told me with no uncertainty that in the event of such a large-scale TEOTWAWKI event they would immediately see to the safety and protection of their families first. Urban / Suburban officers have informed me that to stick around might be suicide, and most would bug out as soon as possible. -Matthew L.

…

In response to Ron's article, I have been a cop for 30+ years now. I started in a rural Sheriffs Office, got bored and after a year went on to become a big city cop (BCC). After I retired I swore another oath as a Deputy Sheriff in larger more rural county. I believe Ron is correct in his synopsis , there will not be much LE if there is a TEOTWAWKI situation via a NBC attack, meteor strike, volcano et cetera.

Over the years I too have inquired my brother/sister leo's mindset on this topic. Amongst the BCC the largest percentage will go and take care/be with their families in their time of need. A few, mostly the young ones with no families yet said they would stay on as long as they felt they could make a difference. The senior cops know the futility of the law enforcement situation with the Golden Horde and would bug out/in with their families, BTW these are the ones that are most prepared and think like us. – Law Dawg
For those who haven't yet obtained a firearm(s), we recommend reading Rick Blaine's primer: An Introduction to SHTF Home Defense, Guns, and Safety.
It's up to you whether or not you want to put up a sign if the SHTF. Depending on the scenario, you may want to keep your defense capabilities and the fact that you are home a secret. But, a sign like the following will certainly be more effective than a Brink's home alarm sign: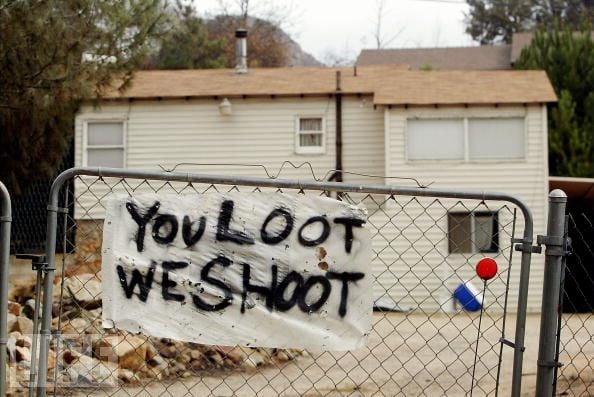 Related: Government Moves Toward Martial Law: Officers Being Disarmed Nationwide