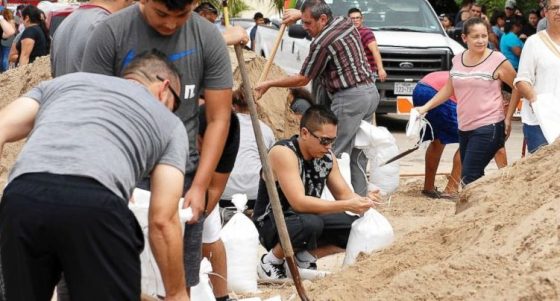 Tens of thousands of Texans have evacuated their homes fearing Hurricane Harvey. Now, one local leader in a coastal Texas community had told residents who chose to stay home during the hurricane, to write their names and Social Security numbers on their arms.
Rockport Mayor Pro Tem Patrick Rios said at a news conference, "We're suggesting if people are going to stay here, mark their arm with a Sharpie pen with their name and Social Security number."  He went on to say, "We hate to talk about things like that. It's not something we like to do but it's the reality, people don't listen." But if people don't listen to evacuation orders, what makes the mayor assume people will willingly mark themselves?
Rios wants people marked to make things easier for the government in the event of deaths. He also claims that that grim step is necessary to prepare for the worst in case scenario of numerous deaths among the people who freely chose to remain in the area.  If you think this sounds a little bit like Nazis forcing the Jews to wear yellow stars on their clothing for a quick government identification, you aren't the only one.
According to ABC News, seven counties and five cities, including Rockport, had issued mandatory evacuations, while several other areas have issued voluntary evacuations. For those evacuating or staying, certain steps can be taken ahead of the storm's expected landfall early Saturday morning to protect your home and property from damage.
Hurricane Harvey's destruction has already begun with 20 inches of rain and catastrophic winds reported.
Tropical Storm Harvey has stalled over Texas where extreme rainfall has occurred in the Houston metro area, leading to record-breaking, catastrophic flooding. Days of drenching downpours are ahead along with the potential for tornadoes and lingering coastal flooding.

Localized rain amounts of 40-50 inches are not out of the question once Harvey's rain is finished later this week. This may end up being one of the worst flood disasters in U.S. history.

 In the 24 hours through Sunday 4 a.m. CDT, parts of the southeast Houston metro area had received more than 20 inches of rain. One location in far southeast Harris County near Webster logged 23.72 inches of rain in 24 hours and 25.92 inches in 48 hours. –

The Weather Channel
So far,
two deaths have been reported
due to the hurricane and it isn't clear if those deceased took the Mayor of Rockport's advice and wrote their names and social security numbers on their arms, but it seems unlikely.
 A person was found dead in a vehicle in Houston on Saturday night in a possible drowning amid flooding in the city, a Houston fire department spokesperson said. A man died in a house fire in Aransas County after rescuers could not get to him late Friday or early Saturday, the county judge said. –

NBC News
Harvey is expected to dump even more rain over Texas in the next few days, potentially triggering catastrophic flooding. "A lot of the damage is yet to come," FEMA Administrator Brock Long told MSNBC. "Rainfall is going to be tremendous inland."