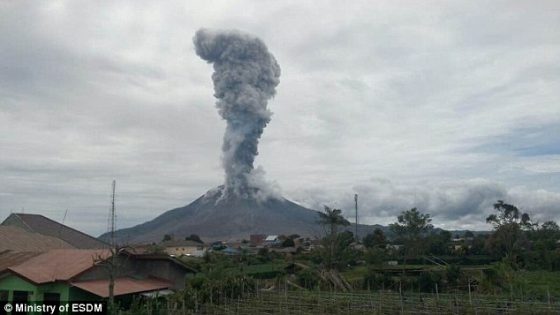 Fears that Mount Agung would explode in Bali sparked the evacuation of 50,000 mere days ago. But the volcano hasn't erupted yet. Instead, Mount Sinabung is now exploding.
More than 75,000 people living in the area have fled since the announcement that the Mount Agung volcano's eruption is imminent. The fear that Mout Agung will go off at any time has just been ratcheted up to the highest level as well, leaving displaced residents rightly concerned. While all attention was focused on the potential imminent eruption of Mount Agung in Bali, another deadly Indonesian volcano has dramatically exploded in Sumatra.
Sinabung is located on the "Ring of Fire," a volatile zone of seismic activity with hundreds of active volcanoes and 90 percent of the world's earthquakes.
Mount Sinabung, in northern Sumatra, spewed plumes of ash 2.5km into the air as it erupted at 1:23 pm local time on Wednesday. The volcano actually explodes so frequently, warning signs are permanently stationed around it warning against going near it. Authorities feared the new lava flows could cascade down the mountain and destroy homes, as has happened several times.
Just last month another eruption rocked the area, blasting ash 4.2km into the air and causing pyroclastic flows many kilometers across surrounding countryside. Earlier in the year, 10 people were killed in another eruption by Mount Sinabung, with its death toll sitting at 20 in the past decade, including four high school students and their teacher on a school excursion.
Scientists said there were 1,000 tremours around the island's highest peak, Mount Agung, occurred in a single day and if they continue, that volcano could erupt in only a matter of hours.
Authorities continue to insist that Indonesia is safe for tourists even though the "Ring of Fire" has been experiencing some seismic shakeups and volcanic activity appears to be increasing.