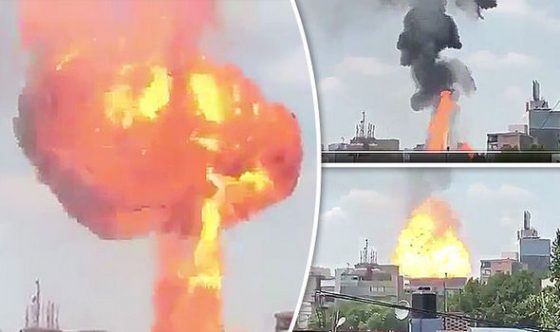 *Photo Credit: Express.UK
Footage of an explosion shortly after the 7.1 magnitude earthquake hit Mexico City yesterday is terrifying. Flames can be seen engulfing the building as a ring of fire crawls into the sky.
Buildings in Mexico City shook as the quake rumbled below them, and office workers fled into the street for fear of their lives. There have been reports of widespread fires in buildings across the capital and several people are said to be trapped. Most recent reports put the death toll at 216, and that number could still climb.
Perhaps the most sensational and horrifying video of the destruction is that of an exploding building. The video begins as a fire is already burning. Then you'll hear a loud "pop" as the fireball extends toward the sky.
Residents in the city also caught a building collapse on video shortly after the earthquake.
The epicenter of the 7.1-magnitude earthquake was 2.8 miles (4.5 kilometers) east-northeast of San Juan Raboso and 34.1 miles (55 km) south-southwest of the city of Puebla, in Puebla state, according to the US Geological Survey. President Enrique Peña Nieto said 22 bodies were found in the debris of an elementary school in Mexico City that collapsed due to the earthquake. At least 30 children were still missing Tuesday night, he said.
#Mexico: Massive destruction in #Mexico after #earthquake. pic.twitter.com/OTc6UVWERU

— GulMakai (@GulMakaiKabuli) September 19, 2017
The earthquake generated fears of a tsunami as well. But officials say that the epicenter was too far inland for a wave to be created from this one. Nearly 5 million are still without power.
Tuesday's earthquake came just eleven days after a magnitude-8.1 earthquake struck off the southern coast of the country, killing at least 90, according to the governor of the hard-hit state of Oaxaca.