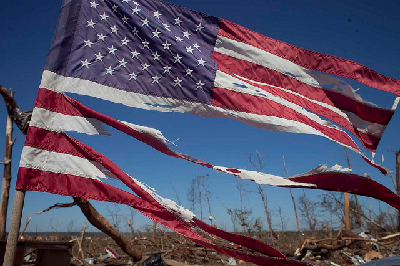 Liberty fades in the American heartland, but perhaps there's still hope.
Mark Dice discovers why he's proud to be an American…
These ill-informed zombies have no idea even about how many stars are on the flag, much less about what the Fourth of July represents:
Pretty shocking.
These millenial voters who are electing the next president don't know their heads from their asses. They have no idea what is going on in the world, and they are enabling the downfall of this once great country.
Many no longer have any loyalty to this nation or the rights of the people, and are happy to see it dismantled. When chaos erupts, a police state will fill the vacuum, and power will shift evermore up the pyramid.
This is what dependence looks like, not independence.
Read more:
Are They Arming for Riots Across America? Homeland Stockpiling "Less Lethal Specialty Munitions"
The Prepper's Blueprint: Prepare For Any Disaster
If Martial Law Comes to America "Dissidents and Subversives Would Be Rounded Up"
The Pentagon's Counter-Zombie Martial Law Plan: 'Concentrate Firepower to the Head'