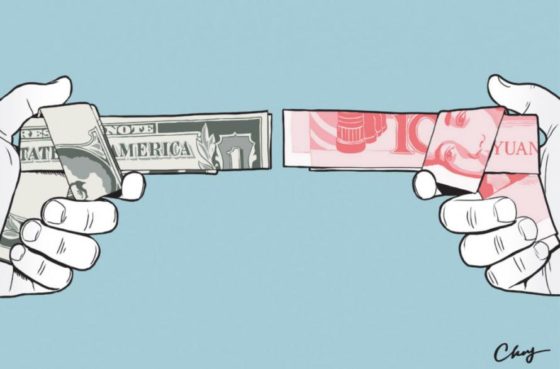 The United States and China are both reportedly attempting to reengage in diplomatic discussions to defuse the economically destructive trade war they've begun.  Talks have been stalled for weeks and with more tariffs set to take effect Wednesday, both countries seek to minimize the damage.
According to Bloomberg, representatives of U.S. Treasury Secretary Steven Mnuchin and Chinese Vice Premier Liu He are having private conversations as they look for ways to participate in negotiations. This appears to be according to sources who spoke about the deliberations on condition of anonymity.
Negotiations to resolve the trade war dispute have been stalled for weeks, with both sides refusing to budge. High-level U.S. talks on the Trump administration's trade posture toward China are taking place this week, according to a third person who also spoke on the condition of anonymity.  The timeframe and issues to be discussed appear to be unknown still, however, the sources insist there is agreement that talks need to take place.
The next wave of U.S. tariffs is set to kick in as early as Wednesday, with the possible imposition of duties on another $16 billion of Chinese imports. Officials in Beijing have vowed to respond with the same amount of tariffs on U.S. products.

Complicating Mnuchin's efforts is a harder line taken by U.S. Trade Representative Robert Lighthizer, who has jurisdiction over the U.S.'s 301 investigation that sparked the tariffs. That case concluded China was stealing American technology and tariffs were needed to offset the damage. –Bloomberg
But unfortunately for the politicians and supporters of tariffs, the cost of the new tax will be passed onto the American public in the form of higher costs for goods. Americans themselves will pay for this war, not the Chinese businesses, and certainly not the Chinese government.  The everyday citizens living in China are likely facing the harsh reality of increased prices too.
https://www.shtfplan.com/headline-news/financial-experts-warn-americans-will-pay-the-cost-of-a-trade-war_07182018
This is the first news in months that both the U.S. and China are interested in stopping the trade war before it destroys the global economy. U.S. and Chinese officials have not given much recent indication to the public that a restart to negotiations might be on the table. Lighthizer said last week that trade tensions with China are a "chronic problem," while China's representative at the World Trade Organization accused the U.S. of "extortion."
Of course, the Chinese representative is correct, but to be fair, all taxation, including tariffs are extortion (except the income tax which is clearly theft.)