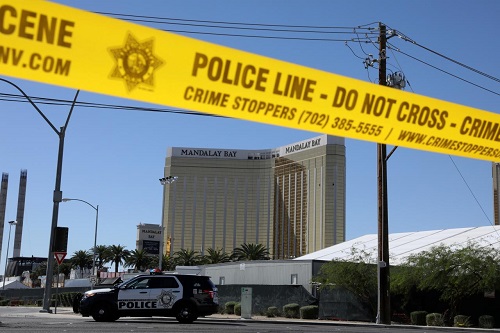 It appears, in a roundabout way, the LVMPD has admitted that another suspect was occupying room 32-134 on the night of the massacre, during the shooting.
LAS VEGAS (INTELLIHUB) — The unnamed suspect who occupied Mandalay Bay room 32-134, the room adjacent to Stephen Paddock's end suite (32-135), made their escape out the front door then exited the building, according to vague details published in the Las Vegas Metropolitan Police Department's 19 Jan. preliminary report on the 1 October mass casualty shooting which left 58 people attending a country music concert dead.
As Intellihub reported on 10 Oct., over a week before the release of the prelim report, there is no way that Paddock could have made his way back and forth between the two rooms, as Sheriff Joseph Lombardo previously stated on the record.
This action would have been physically impossible because the adjoining door to room 32-134 was dead-bolted shut at 9:46 p.m., about 14 minutes prior to the first volley of fully automatic gunfire, as the official report indicates. To top it all off, the report states that at 9:36 p.m. the dead bolt for room 32-135 was engaged which proves that both doors were locked at the time of the shooting as if the perpetrators had planed it that way.
On 10 Jan., Intellihub Tweeted: "If the adjoining #Room134 door connecting Paddock's room was locked and had to be breached by @LVMPD, from room 135, then who locked it? It can only be locked from the other side! Answer this please."
If the adjoining #Room134 door connecting Paddock's room was locked and had to be breached by @LVMPD, from room 135, then who locked it? It can only be locked from the other side! Answer this please. #LasVegasShooting #coverup pic.twitter.com/CE730cc4Mc

— Intellihub (@intellihubnews) January 11, 2018
Additionally, the prelim report confirms that a room service receipt for two was closed out in Marilou Danley's name just after 1:30 p.m. which suggests Danley's presence at the time. The receipt was for a total of $67.60 and included two meals which can be seen in the following picture. Withal, it's obvious that two people were dining together in the room.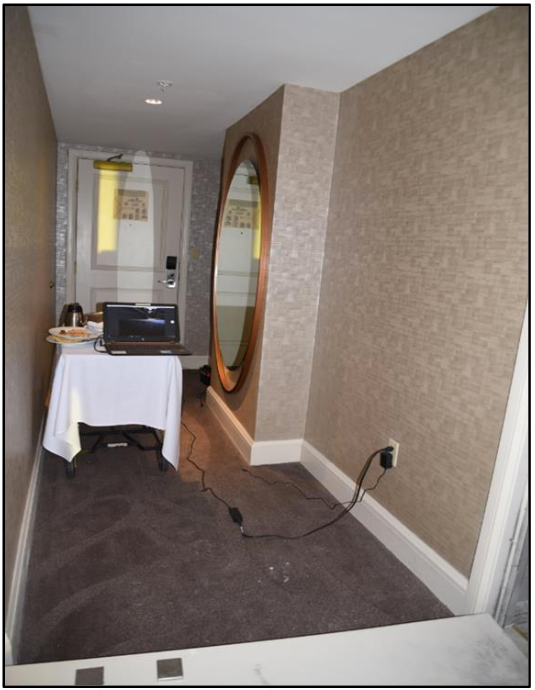 Furthermore, we also know that at least one shot was fired from room 32-134, as reported by Intellihub on 1 Nov. This shot could not have been fired by Paddock as the adjoining doors to both rooms were locked at the time, as the report states. Not to mention, Paddock had never entered the hallway once the shooting started and most certainly was not navigating back and forth between the two rooms using the hallway and main room doors.
Was Marilou Danley actually in room 32-134 at the time of the shooting?
All signs point to yes but this is unconfirmed at this time.
Remember, the room was rented under Danley's name, as Intellihub reported last week.
If true, this would mean that anyone could rent a hotel room at Mandalay Bay under an assumed name by presenting any random person's credentials, even if the photo, name, and sex of the person listed on those credentials don't match the person who is presenting them.

To see what MGM had to say about this, Intellihub spoke with a Mandalay Bay public relations person named Allison over the phone Friday who would not offer any information or comment on whether or not just anyone off the street could rent a room under an assumed name, as the LVMPD's report states. Needless to say, Alison referred Intellihub to the standard media request email "[email protected]."

After, being turned away by the PR representative and being put on hold for nearly ten minutes, Intellihub spoke with a Mandalay Bay front desk representative who confirmed the hotel will not rent a room to someone unless the valid photo I.D. and credit card matched the person presenting it.

"No," the representative told Intellihub over the phone when asked if the hotel would have rented a room to someone (Stephen Paddock) under the same circumstances described in the LVMPD report. "We wouldn't."
To boot, a pair of woman's sandals is clearly visible in the following picture taken in room 32-134 which raises a red flag within itself.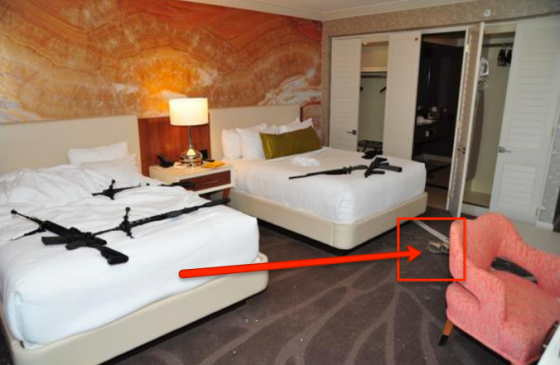 As a side note, the LVMPD has announced that they are preparing to name the second suspect in the coming days. Could the suspect be Paddock's girlfriend Danley?
Youtuber "D James" does an outstanding job explaining the LVMPD's omissions in the following video published on Jan. 24th.
A big hat tip goes out to "D James" for getting down to the minutiae on this. Great job!
Here is some food for thought: As an investigative journalist with over 700 hours into the case, I am starting to believe that both Danley and Paddock escaped and that the body recovered in room 32-135 was not Paddock at all. Danley and Paddock may be CIA operatives who were overseeing some sort of covert air assault. Target and/or motive, endgame, not yet clear.
Shepard Ambellas is an opinion journalist, analyst, and the founder and editor-in-chief of Intellihub News & Politics (Intellihub.com). Shepard is also known for producing Shade: The Motion Picture (2013) and appearing on Travel Channel's America Declassified (2013). Shepard is a regular contributor to Infowars. Read more from Shep's World. Follow Shep on Facebook. Subscribe to Shep's YouTube channel.