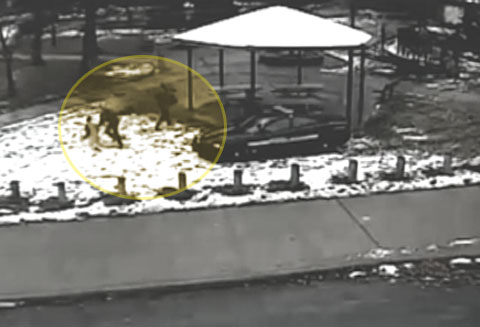 The November police shooting of 12-year-old Tamir Rice, who was carrying around a BB gun that the 9-1-1 caller said was "probably fake", has already made waves after video showed police killing the boy within one or two seconds of arriving on scene.
Newly-released video, that officials had previously tried to keep under wraps, was released revealing what happened during a 30 minutes span after the shooting. It supports the accusations that mother Samaria Rice previously made claiming that police didn't attempt to revive her son or provide any medical assistance after-the-fact, but instead 'mistreated' other members of the family. Benjamin Crump, a lawyer for the Rice family stated at the time:
"All the witnesses say they didn't see police officers attempt to perform CPR," said Crump, adding: "They're supposed to de-escalate, not escalate a situation, and everything you see in that video escalated the situation."
What the video shows after the already damning shooting is creating fresh outrage at police behavior:
Literally adding insult to injury, video shows police tackling Rice's 14-year-old sister to the ground as she ran to Tamir's body moments after the shooting.
Video shows that officers Frank Garmback and Timothy Loehmann then handcuffed her and placed her in the back of the squad car, while doing nothing at all to help revive Tamir Rice or sustain his wounds. They just stood around. The Guardian reported:
The newly released video shows the girl rushing towards her brother. Loehmann's partner, Frank Garmback, the driver of the police car, blocks her and forces her to the ground. The officers handcuff her and put her in their car, which is parked steps away from her wounded brother.

As Tamir suffers, the officers wait. One stands with his hand on his hip; neither attempts to save the boy's life. It is not until a man later identified as an FBI officer arrives on the scene – four minutes after Tamir has been shot – that the boy receives any help.

Nearly 10 minutes after the incident, emergency responders arrive and take Tamir away on a stretcher.

[…]

"This video shows in crystal-clear HD that the responding officers acted inappropriately and recklessly, both in how they handled the shooting of 12-year-old Tamir Rice and the events that immediately followed," said Benjamin Crump, a lawyer for the Rice family, who has represented the families of Trayvon Martin and Michael Brown.

Another lawyer for the family, Walter Madison, told NOMG: "This has to be the cruelest thing I've ever seen."
While most police certainly do have a difficult job, that sentiment does little to explain all the things that went wrong in this case.