It seems that the Andrews Air Force base, where the President's Air Force One plane is stationed, couldn't tell a difference between a drill simulating an active shooter attack and the real thing.
And it happened just five minutes before President Biden was due to arrive.
As the Daily Mail reported:
Chaos erupted at Joint Base Andrews in Maryland on Thursday morning after an active shooter drill prompt reports of a 'real world' shooter. 

The base was placed on lockdown at 9am Eastern Time – just minutes before Vice President Joe Biden was due to arrive to board a plane to Ohio.

All personnel were ordered to shelter in place, and people were seen running through the base with their hands in the air.

It came at exactly the same time that they were scheduled to start an active shooter training exercise.
Apparently this exercise was last minute and unannounced. Did this drill 'go live'?
21st Century Wire reported:
There's only one problem with this story: we also learned that the base had planned a "no-notice" Active Shooter Exercise scheduled for 9 am this morning, and as if by some amazing coincidence, during exercise, local first responders received emergency calls about a 'real world' active shooter on the base.

[…]

"According to a public information officer in the Washington office, the reason for this is because of the confusion over reports of a drill or an actual incident. The FBI field offices let security on Joint Base Andrews sort out the confusion." (FOX6 NOW)

"Joint Base Andrews was locked down just after 9 a.m. after someone mistook an active shooter drill for the real thing, senior law enforcement officials told NBC News. All personnel were directed to shelter in place," said NBC News.
Why did Joint Andrews Air Force Base begin tweeting out reports as if it were really happening?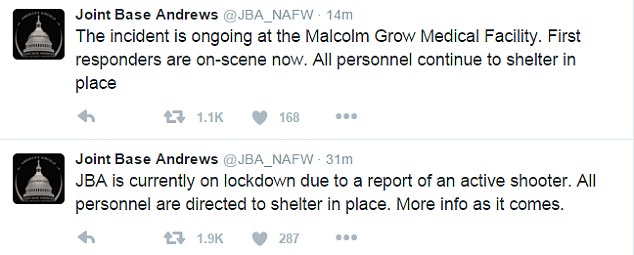 Was it a plot targeting the Vice President or other high officials? Or was it just a botched exercise?
Media reports began to circulate before it was found out that it was just a false alarm. One wonders if the effect wasn't intentional.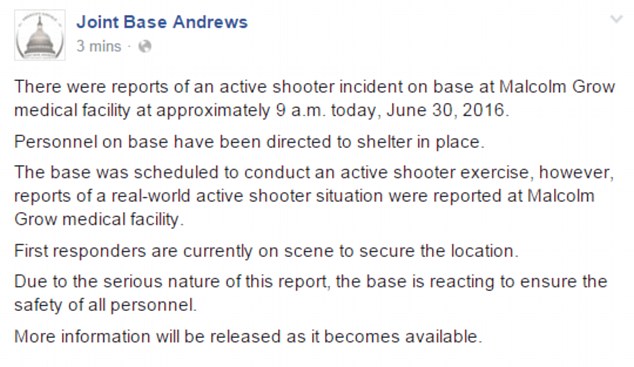 If the military doesn't know the difference, then no one could expect the public to know the difference either. Yet, when terror attacks or big incidents grab headlines, there is often no substantial proof that is shown, and quite a bit is taken on faith.
Significantly, CNN and other networks began broadcasting the report as if the event were real, showing the world images of the simulated drill – before the report was ultimately quashed.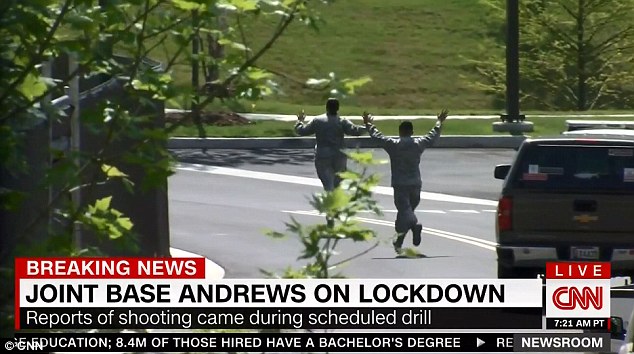 Nevertheless, the images of this manufactured event were at first reported as real, and shown as evidence.
The ticker shows the "breaking news" that Joint Base Andrews was in lockdown mode…
Yet these images were proof of nothing, because nothing was really happening.
Are we being goaded on by reality, or just simulations and exercises?
Read more:
Unannounced Shooter Drill Terrifies Students: "I Thought He Was Going to Shoot Me"
Shock Report: Police Were Engaged In Active Shooter Drill JUST BEFORE San Bernardino Massacre
Not Even Police Were Told About This "Active Shooter" Drill…