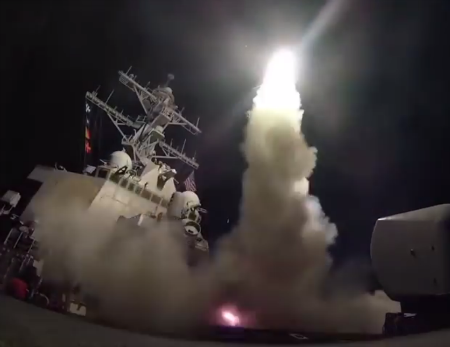 This article was written by Tyler Durden and originally published at Zero Hedge.
Editor's Comment: It's pretty hard to buy all the B.S. going on here. The outrageous  false flag events taking place right now are being used to jump start Trump's wars, whether he wants it or not, and there will be no turning back once the fires catch. Everything is on high alert. The only question is whether things will die back down, or spark off completely.
Without a real narrative working for them in Syria, the U.S. are constantly compelled to invent one. So far, the Trump Administration has proven easy to manipulate, and wider war seems to be looming overhead.
Putin: "Idlib Was A "False Flag" Attack And We Have Learned That More Are Coming"
by Tyler Durden
With Rex Tillerson on his way to Russia, moments ago Russian president Vladimir Putin shocked reporters when he said that Russia has received intelligence from "trusted sources" that more attacks using chemical weapons are being prepared on the Damascus region, meant to pin the blame on the Assad government.
"We have reports from multiple sources that false flags like this one – and I cannot call it otherwise – are being prepared in other parts of Syria, including the southern suburbs of Damascus. They plan to plant some chemical there and accuse the Syrian government of an attack," he said at a joint press conference with Italian President Sergio Mattarella in Moscow
The Russian President announced that Russia will officially turn to the UN in the Hague for an investigation of the chemical weapons' use in Idlib.  Moscow has dismissed suggestions that the Syrian government that it backs could be behind the attack in Idlib province.
"All incidents reminiscent of the 'chemical attacks' that took place in Idlib must be thoroughly investigated," Putin said.
Damascus denied the allegations, noting that the targeted area may have been hosting chemical weapons stockpiles belonging to Islamic State (IS, formerly ISIS/ISIL) or Al-Nusra Front jihadists.
The incident has not been properly investigated as yet, but the US fired dozens of cruise missiles at a Syrian airbase in a demonstration of force over what it labeled a chemical attack by Damascus.
Putin also pointed out that the latest US missile strikes in Syria bring to mind the United States' UN Security Council address in 2003 that led to the invasion of Iraq, an address which has now been thorougly debunked as using flawed information to garner global support for an invasion.
"President Mattarella and I discussed it, and I told him that this reminds me strongly of the events in 2003, when the US representatives demonstrated at the UN Security Council session the presumed chemical weapons found in Iraq. The military campaign was subsequently launched in Iraq and it ended with the devastation of the country, the growth of the terrorist threat and the appearance of Islamic State [IS, formerly ISIS] on the world stage," he added.
The Russian president also slammed the Idlib attack, officially denouncing it as a "false flag" attack.
Putin also said that there is no meeting with Tillerson currently on his schedule.
Following Putin's presser, Russian General Staff released a statement announcing that it has information of militants bringing poisonous substances to areas of Khan Shaykhun, West of Aleppo and Eastern Guta in Syria.
Chief of the Russian General Staff Main Operational Directorate Col. Gen. Sergei Rudskoy said that the militants are trying to provoke new accusations targeted at Syrian government for alleged use of chemical weapons. The militants aim to incite the US to conduct new strikes, Rudskoy warned, adding that such measures are impermissible. He said that according to the Russian general staff new US airstrikes in Syria are unacceptable and that the Syrian forces posses no chemical weapons.
This article was written by Tyler Durden and originally published at Zero Hedge.