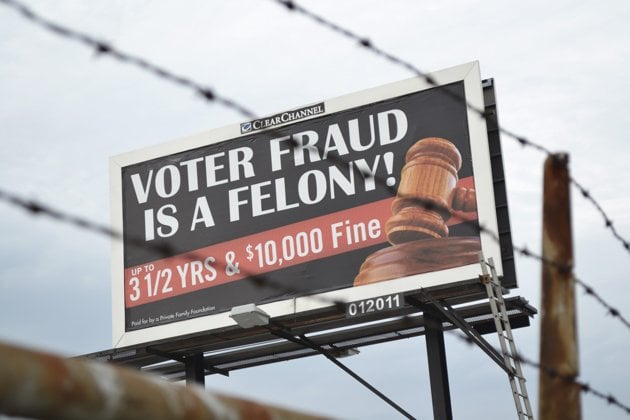 This article was written by Tyler Durden and originally published at Zero Hedge.
Editor's Comment: The basic question, once you get to the point, is: does Hillary get to steal the election, even when it's out in the open theft? These undercover videos make it pretty clear that we aren't just dealing with the implications of fraud, but direct evidence of it. Anyway you look at it, there is some major vote rigging going on here.
So then what? If nobody stops her, then what does that tell you about the system that is allowing this to take place, and widely endorsing her – even across two-party lines. The mask is off, and there is a bigger beast to deal with than just Big H.
"Don't Repeat That To Anybody" – Hillary Clinton And Donna Brazile Personally Implicated In Latest Project Veritas Video
by Tyler Durden
Last week, Jame O'keefe and Project Veritas Action potentially altered the course of the U.S. election, or at a minimum raised serious doubts about the practices of the Clinton campaign and the DNC, after releasing two undercover videos that revealed efforts of democrat operatives to incite violence at republican rallies and commit "mass voter fraud."  While democrats have vehemently denied the authenticity of the videos, two democratic operatives, Robert Creamer and Scott Foval, have both been forced to resign over the allegations.
Many democrats made the rounds on various mainstream media outlets over the weekend in an attempt to debunk the Project Veritas videos.  Unfortunately for them, O'Keefe fired back with warnings that part 3 of his multi-part series was forthcoming and would implicate Hillary Clinton directly.
Anything happens to me, there's a deadman's switch on Part III, which will be released Monday. @HillaryClinton and @donnabrazile implicated.

— James O'Keefe (@JamesOKeefeIII) October 21, 2016
Now, we have the 3rd installment of O'Keefe's videos which does seemingly reveal direct coordination between Hillary Clinton, Donna Brazile, Robert Creamer and Scott Foval to organize a smear campaign over Trump's failure to release his tax returns.  Per Project Veritas:
Part III of the undercover Project Veritas Action investigation dives further into the back room dealings of Democratic politics. It exposes prohibited communications between Hillary Clinton's campaign, the DNC and the non-profit organization Americans United for Change. And, it's all disguised as a duck. In this video, several Project Veritas Action undercover journalists catch Democracy Partners founder directly implicating Hillary Clinton in FEC violations. "In the end, it was the candidate, Hillary Clinton, the future president of the United States, who wanted ducks on the ground," says Creamer in one of several exchanges. "So, by God, we would get ducks on the ground." It is made clear that high-level DNC operative Creamer realized that this direct coordination between Democracy Partners and the campaign would be damning when he said: "Don't repeat that to anybody."
Within the video both Clinton and Brazile are directly implicated by Creamer during the following exchange:
"The duck has to be an Americans United for Change entity.  This had to do only with some problem between Donna Brazile and ABC, which is owned by Disney, because they were worried about a trademark issue.  That's why.  It's really silly.

We originally launched this duck because Hillary Clinton wants the duck.

In any case, so she really wanted this duck figure out there doing this stuff, so that was fine.  So, we put all these ducks out there and got a lot of coverage.  And Trump taxes.  And then ABC/Disney went crazy because they thought our original slogan was 'Donald ducks his taxes, releasing his tax returns."

They said it was a trademark issue.  It's not, but anyway, Donna Brazile had a connection with them and she didn't want to get sued.  So we switched the ownership of the duck to Americans United for Change and now our signs say 'Trump ducks releasing his tax returns.'  And we haven't had anymore trouble."
As Project Veritas points out, this direct coordination between Clinton, Brazile and Americans United For Change is a violation of federal election laws:
"The ducks on the ground are likely 'public communications' for purposes of the law.  It's political activity opposing Trump, paid for by Americans United For Change funds but controlled by Clinton/her campaign."
Here is the full video just released:

As a reminder, below are parts 1 & 2 of the Project Veritas series in case you missed them.
Video 1 revealed DNC efforts to incite violence at Trump rallies:
Video 2 provided the democrat playbook on how to commit "mass voter fraud":
This article was written by Tyler Durden and originally published at Zero Hedge.