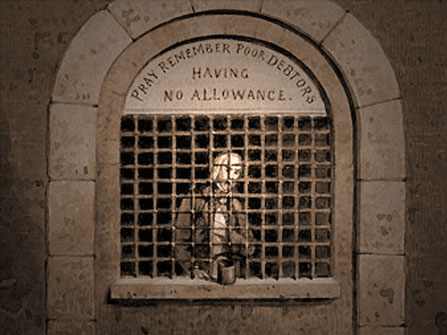 This article was written by Claire Bernish and originally published at The Free Thought Project.
Editor's Comment: How unconscionable is it that someone can be so in debt for just trying to stay alive that they could land in jail over unpaid bills during what is already one of the most difficult periods of their lives.
The trap of debt, penalties and fines is landing lots of people who can't pay in prison. It is a return to Debtors' Prisons, supposedly found unconstitutional, but now resurrecting through color of law. It's a shame, and it could catch up with anyone of us. Outrageous!

Judge's 'Debtors' Prison' Court Throws Cancer Patient in Jail Over Unpaid Bills
by Claire Bernish
A judge in Sherwood, Arkansas, running his own 'debtors' prison,' sentenced a 44-year-old cancer patient to 90 days in jail — not for a violent crime, drunk driving, or possession of substances the state deems illegal — but because he owed the court money.
Lee Robertson began chemotherapy in 2009 to battle pancreatic cancer which has left him physically incapable of holding a job. Over a two-week period, Robertson wrote a series of bad checks for small amounts, ranging from $5 to $41, for which he eventually owed a few stores about $200 a piece.
Eventually, the debts and arrests piled up, and last month, Robertson received the 90-day sentence from Sherwood District Court Judge Milas "Butch" Hale —  for owing the court $3,054.51 — hardly a fortune by any stretch of the imagination, but clearly an unworkable burden for now-jobless cancer patient.
Now, Robertson has joined a class-action federal civil rights lawsuit filed by the Arkansas Civil Liberties Union and the Lawyers' Committee for Civil Rights Under the Law, which alleges the city of Sherwood created a "modern-day debtors' prison" — and judging by the city's treatment of those unable to pay their debts, the description is all-too apt.
As HuffPo explained:
"In Sherwood, the 'Hot Check Division' of the municipal court is drawing scrutiny. While the division is supposed to be part of the municipal court, the city has marketed the division to the business community in Pulaski County, according to the lawsuit. Sherwood lists the division as a 'department' on its website, and calls the court's work a 'service' for merchants — one that issues 'over 35,000 warrants annually' on charges in connection with bad checks. The court collected nearly $12 million in five years."
And the way the court, in conjunction with the city, pulls off this 'service' for local businesses is more akin to Dickinsonian novel than would ever be expected from a small city in the U.S. in 2016.
Indeed, the 'Hot Check Division' operates in essence as an armed and forceful collection agent for businesses — completely independent of a person's ability to pay their debt. Each time a person fails to make a payment — regardless of the circumstances — the court issues an arrest warrant, using the "opportunity to assess more fines and fees against the individual," as the Arkansas Civil Liberties Union stated in a press release. According to the ACLU:
"Sherwood Police Department also plays a critical role in the collections scheme. Police officers knock on people's doors and threaten to arrest the person unless they can pay a small amount of money — usually $50 or $100 — to get a court date instead of being taken into custody. Despite the abuses in this court, Pulaski County continues to channel county-wide misdemeanor 'hot check' cases there."
Many are arrested on "failure to pay" and "failure to appear" charges, and each 'bad' check — no matter how small the amount written — can generate fines and fees of up to $400. All told, this debtors' prison scheme accounts for a full 12 percent of the city's budget — $2.3 million for 2015, alone — an insanely lucrative revenue generation service at the expense of those who obviously have difficulties paying in the first place.
Once a date is set, defendants aren't permitted to have friends or family or members of the public present in the 'closed court,' and far worse, are forced to sign a "waiver of counsel" before entering the courtroom — meaning they must forego their right to an attorney before appearing before the judge without any witnesses.
"A single bounced check written 10 years ago for $15 can be leveraged into a debt of thousands and thousands of dollars in fines and fees for inability to pay the original check and then the inability to pay the payments that were set up," explained Rita Sklar, Executive Director of the Arkansas ACLU, to KATV.
"In this country, you cannot be jailed if you cannot pay your debts," she said. "That's called debtors' prison and that's something we did away with 200 years ago."
According to the Arkansas ACLU statement, the lawsuit also alleges a misuse of public tax funds under the state's "illegal exaction" law.
"The Sherwood District Court epitomizes the criminalization of poverty and the corrupting effect of financial incentives on our local courts," asserted Kristen Clarke, president and executive director of the Lawyers' Committee for Civil Rights Under the Law. "Not only does this 'Hot Check' court completely ignore the long-standing principle that a person cannot be punished because they are poor, but by using coercive practices to collect money from the poorest Arkansans, this debtors' prison scheme generates huge revenues for the city."
Robertson is joined by three other plaintiffs in the suit, including Nikki Petree, whose bounced check for $28.93 generated no less than $2,600 in fines and fees for the city — and led to her being arrested seven times and spending 25 days in jail.
Hale, the judge at the heart of the case, issued a statement to KATV, saying:
"We do not run a so-called debtors' prison in Sherwood. If a defendant pleads guilty, or is found guilty, of writing a hot check we set up a payment plan. It is only after a third of fourth time that they fail to comply with a court order that we incarcerate."
Sadly, the lawsuit also suggests the practice is far from confined to a single court, city, and county, despite the practice being outlawed in 1833 — and reiterated by the Supreme Court 30 years ago. Nonetheless, there has been a resurgence and a continued covert practice of sending the indigent to jail for the inability to pay in recent years.
"Across the country, the cost of debtors' prisons in human lives and public resources is enormous," Sklar noted. "When the criminal justice system serves as unscrupulous debt collectors for the public and private sector, without regard to due process, the government is not only violating people's rights, it is facilitating the never-ending cycle of poverty: threatening the poor with incarceration for failure to pay bills they can't pay, keeping them from jobs that may help them pay their bills, and stacking up fines that dig the poor into an even deeper hole. We need open court proceedings and public accountability, fair, rational laws that take into account defendant's ability to pay and prohibit incarceration for failure to pay, and we need to stop raising money on the backs of the poor."
Last week, in contrast, the Department of Justice said in a federal appeals court defendants cannot be jailed simply for the inability to pay bail, as The Free Thought Project reported.
"Bail practices that incarcerate individuals before trial solely for their inability to pay for their release violate the Fourteenth Amendment," the DOJ said in an amicus brief.
This article was written by Claire Bernish and originally published at The Free Thought Project.