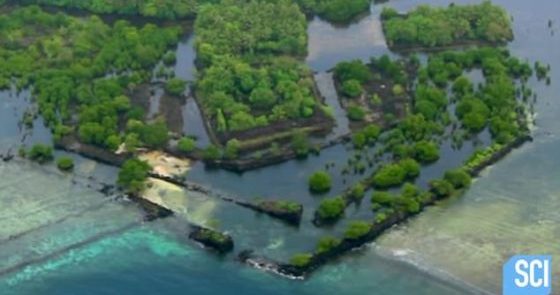 New aerial photos of an ancient city in the Pacific Ocean have renewed a debate about the existence of the fabled "Lost City" of Atlantis.  The new photos have now brought real questions about the existence of the previously assumed fictional city.
The latest episode of the Science Channel's What on Earth? reveals new aerial images of the site, which was built on top of a lagoon. The virtually uninhabitable Nan Madol is located just off the main island of Pohnpei in Micronesia in the Pacific. As the city is separated by tidal canals and is protected by the ocean by 12 sea walls, Nan Madol is often considered the 'Venice of the Pacific'. The name Nan Madol means 'spaces between' and is a reference to the tidal canals that crisscross the ruins. The Micronesian city's ruins are not only that of a once-great city of man-made stone islands, but they also inspired the city of R'lyeh in H.P. Lovecraft's Cthulhu Mythos (a shared fictional universe.)
Mark McCoy, who led the team of researchers at the city's ruins, said: "It now looks like Nan Madol represents a first in Pacific Island history. To me, in its prime, Nan Madol was a capital. It was the seat of political power, the center of the most important religious rituals, and the place where the former chiefs of the island were laid to rest."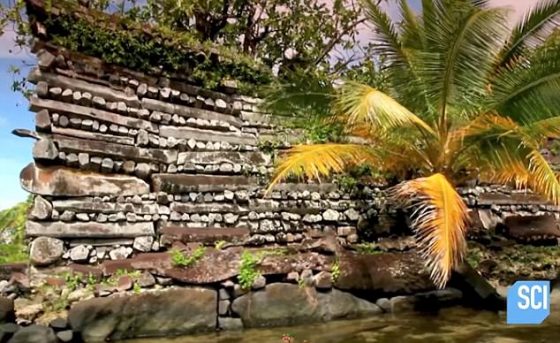 According to the Smithsonian, the buildings that makeup Nan Madol incorporate an estimated 750,000 tons of black rock. The Saudeleurs must have needed to move 1,850 tonnes every year, despite a population of only 30,000 people and no access to pulleys and levers. The Saudeleur kingdom also spent several centuries creating the stone structures which still stand on 92 artificial islands in a lagoon off the coast of the island of Pohnpei.
Evidence of the early human activity on the islands dates back to the first or second century BC, but it is not known exactly when the construction of the artificial islets started. Theories put the city's construction timeframe from the 5th to the 11th century AD.
Locals are so frightened of the city, that they won't go near it, out of fear that spirits and ghosts intent on taking life now inhabit the desolate place.  They have dubbed it "the island of ghosts."