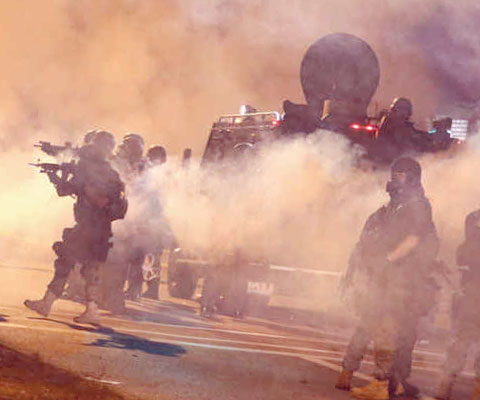 This article was written by Melissa Dykes and originally published at The Daily Sheeple.
Editor's Comment: Sowing the seeds of division and chaos is a full time job for George Soros, who seems intent on dissolving order inside the U.S. border and spreading civil unrest, riots and unleashing a federally-controlled SWAT police force.
When the economic collapse hits, everyone will be too busy staring down the other side in their petty cultural war, and the blame will remain far from the bankers and socialist government crooks, and instead will be broadcast on CNN as black-vs-white, rich-vs-poor and liberal-vs-conservative. When the SHTF, they figure they got it covered… 90% of everybody will probably just try to kill each other.
George Soros, Black Lives Matter, and Manufactured Civil Unrest: Leaked Docs Prove the Real Goal Is Federalizing America's Police
by Melissa Dykes
People have likened the modern American police state to a return of Nazi Germany's SS.
Now, leaked documents from George Soros' Open Society Foundation show that the organization's goal behind funding the Black Lives Matter movement is ultimately to federalize America's police forces.
The document is aptly called, "Police Reform: How to Take Advantage of the Crisis of the Moment and Drive Long-Term Institutional Change in Police-Community Practice." Breitbart reported:
The document states that the Foundations' U.S. Programs (USP) was seeking to use "this moment" – meaning the so-called crisis in policing following high profile shootings and charges of racism – to "create a national movement" for police reform.

States the board meeting document:

The federal government is seeking philanthropic support for a number of its initiatives. In addition to seeking support to advance the implementation of the recommendations of the Presidential Taskforce, the White House recently launched the Policing Data Initiative to explore how best to use data and technology to build trust, voice, and solutions to improve community policing. The Department of Justice recently selected the first six cities to host pilot sites for the National Initiative for Building Community Trust and Justice, which was launched last fall to help repair and strengthen the relationship between law enforcement and the communities they serve by exploring strategies intended to enhance procedural justice, reduce implicit bias, and support racial reconciliation.

We are gaining a better understanding of these efforts in order to determine how best USP can use this moment to create a national movement. We have already had a set of preliminary conversations with about a dozen key stakeholders and will undertake a field scan to map the areas of work currently underway to advance police reform, including an assessment of the redundancies and gaps in work, and opportunities for collaboration. As we proceed, we will engage the funder network we helped to establish, the Executive Alliance on Men and Boys of Color, which now includes forty foundations.
Creating a "national movement" sounds expensive… could that be what the $33 million Open Society gave Black Lives Matter was for?
The memo goes on to discuss how Obama's Task Force on 21st Century Policing, which has met with Black Lives Matter members including leader DeRay Mckesson at the White House, is not only influenced by Soros-backed organizations who have testified before it, but that Bryan Stevenson, one of the nine members on the task force itself identified as "Founder and Executive Director, Equal Justice Initiative," also directly serves on the board of the Open Society Foundations' U.S. Programs.
Soros programs "significant" presence in America
According to another leaked Soros doc, the Open Society Institute specifically created OSI-Baltimore in 1998 as a "social change laboratory" for the institute's programs.
Can it really be a coincidence that so much of the BLM campaign, violence and unrest has been focused there? Oh, and don't forget Black Lives Matter leader DeRay Mckesson currently lives in Baltimore… at the home of wealthy philanthropists who not only donate to the Baltimore chapter of OSI but who used to sit on the Open Society Institute board there.
OSI mentions Ferguson and Baltimore specifically, two cities that have been subject to federal oversight following massive civil unrest in response to highly publicized police violence. In fact, this goes hand-in-hand with the DOJ releasing a scathing report on Baltimore's police department just a few weeks ago…
All of this will be used to take away local and state control over police departments and put it in the hands of the already highly centralized federal government. At this point, more than 30 police departments across the nation have fallen under federal oversight following mass civil unrest, DOJ lawsuits, or threats to cut federal grants. Following the Dallas police shootings, what was President Obama predictably doing? Calling for more federal oversight of America's police.
Black Lives Matter members seem to be under the false assumption that they can somehow get rid of the police in America all together. Maybe that's what their community organizing handlers have told them, however, that's not the ultimate goal of the people who are paying to manipulate them for mass "social change".
While the epidemic of increased police violence and shootings is a serious issue that does need to change, twisting these events through manufactured civil unrest to justify federalized control of police will centralize the power in even fewer hands… how exactly is that going to fix race relations or make America less of police state?
George Soros didn't say.
Manufactured Civil Unrest and Regime Change: Is America Next?

—-
This article was written by Melissa Dykes and originally published at The Daily Sheeple.
Melissa Dykes is a writer, researcher, and analyst for The Daily Sheeple and a co-creator of Truthstream Media with Aaron Dykes, a site that offers teleprompter-free, unscripted analysis of The Matrix we find ourselves living in. Melissa and Aaron also recently launched Revolution of the Method and Informed Dissent. Wake the flock up!