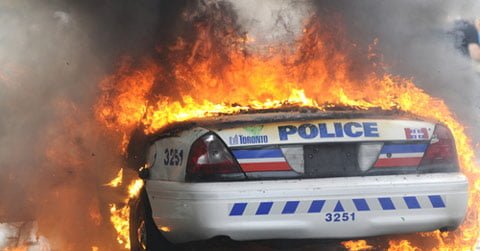 Today is the "Day of Rage", and there is no limit to what could happen as protests spread like wild across the map.
The recent events in Dallas and with several police shootings across the country have built up pressure that is likely to end in pure chaos.
Is the goal to have a violent confrontation with police? To instigate riots, burn down buildings or fuel a race war? Concern about all of these possibilities and more is on the minds of millions who are waiting anxiously to find out how far gone things really are in America. Just look at what has already happened in just the last few days.
Terror and violence are ruling the day. It is as if things are coming unglued.
While many of the protesters showing up at cities literally all across the U.S. intend to be peaceful, there are plenty of provocateurs and potentially thousands of Americans – right or wrong – who are simply fed up and may not stop at anything to get their point across.
Multiply this rage against the machine with the astroturf backing of players as big as George Soros, and it is clear that the nation is on edge, communities are torn, and the black community has drawn a line with the police in general on the other side of it.
Now that President Obama, too, has met with a top leader from Black Lives Matter, and entertained him at the White House, there is clear evidence that the system wants something to happen. They want division.  They want a crisis. They feed off of it.
Frankly, there are those who are ready for things to burn, and we must hope they don't get a repeat of race riots from the 50s and 60s – though they may have planned it that way.
The response is ready and waiting. It is almost built in and automatic. The police state is set in motion once there is a pretext to clamp down with more control… control that people will demand when things break down into chaos and get overturned into the unrest we can all feel coming.
Is today that day?
Heads Up! BLM Leader Meets with Obama Ahead of Day of Rage
Gee, could there be a plot afoot? President Obama met with Black Lives Matter members for three hours on Wednesday, as Tweeted out by BLM member Deray McKesson.
The Day Of Rage: Weather Underground 2.0

Read more:
Is This The Breaking Point? "Day of Rage Protests Across America"
Is America On the Brink of a Civil War? "If We Defend It Together, We Can Avoid Bloodshed"
What is Coming? Elite Feverishly Building Survival Bunkers: "Fear of Uprising From the 99%"
"Unfortunately, This Is Only the Beginning": Black Gunman Fires at Whites, Police in Passing Cars