These before and after images, taken by the Landsat 8 satellite, show plainly and clearly how destructive Hurricane Irma was to the Caribbean islands in its path. The satellite had been busy snapping photos as a way to document the damage.
NASA has released a series of satellite imagery showing islands in the Caribbean before and after the major storm. The photos were taken on August 25 and September 10, 2017, respectively.
The image below is of the island Barbuda both before and after the storm. Locals and authorities in the Caribbean have said that this storm was so strong, it wiped Barbuda off the map.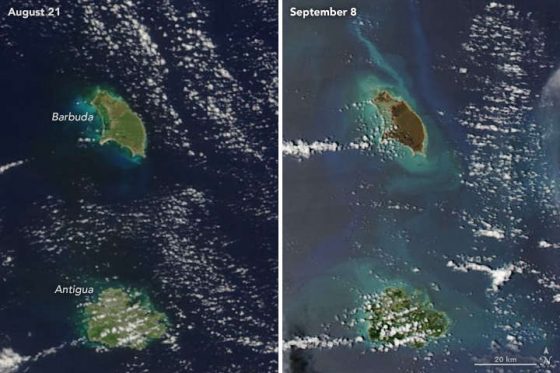 Around 90% of Barbuda's buildings are rubble, and a majority of the island is still underwater, making it uninhabitable for the 1800 residents who before Irma ripped through, called the island home. It didn't fare as well as Antiqua, which is still green, meaning its tropical vegetation is still mostly intact.
Aside from the slightly patchy cloud coverage in the post-hurricane images, the main thing you will notice is the different coloring of the land. In the images from late-August, the islands are a lush vibrant green, while the ones after the hurricane are a duller brown. This is because the hurricane's violent 185 miles per hour (298 kilometer per hour) winds literally stripped the land of much of its tropical vegetation. Additionally, salt spray spat up by the storm can damage the leaves still on the trees. –IFLScience
But that may not be the only major difference. The color of the ocean water appears to be a little more on the light side. But that's most likely due to some differences in the sea's surface. Choppier waters are less smooth on the surface and therefore reflect less light, so they will appear to be darker.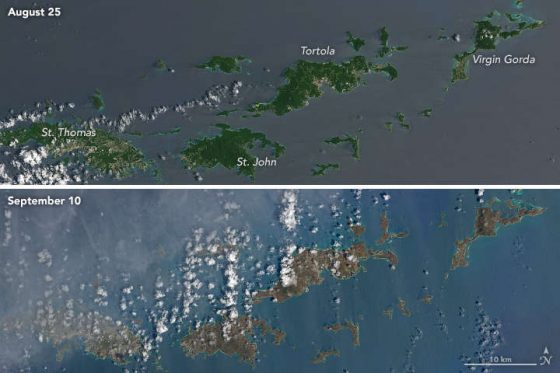 The image above, of the British Virgin Islands, shows that this section of the Caribbean had also undergone some major damage. NASA Earth Observatory says that these islands took a battering from the hurricane. Among the widespread looting and damage caused to property, over 100 prisoners escaped when Hurricane Irma hit the British Virgin Islands.
Many experts say that it will take months, and perhaps even years, to undo the damage done to the Virgin Islands during Hurricane Irma.