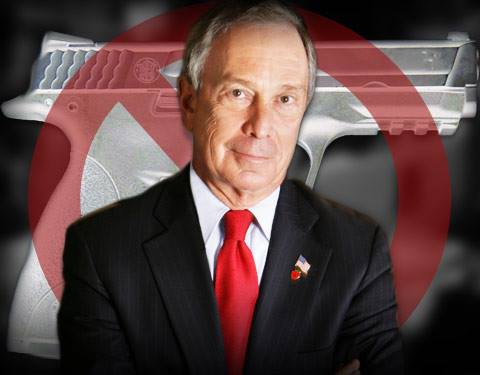 State by state encroachments of the 2nd Amendment are on the move, and they are marching to beat of the drums of billionaire Michael Bloomberg, the former New York mayor and publishing mogul, and his complex of gun control organizations.
As SHTF previously noted, Bloomberg used the magic of billionaire-backed lobby groups to pass gun control in Washington state…
Gun control initiative 594 got a last minute bump from the tragic but conveniently timed school shooting in Marysville on October 24, driving sympathy and headlines to the issue about a week and a half before the election.

But the real push for I594 was from billionaires, including Michael Bloomberg and Bill Gates, who dropped an overwhelming $10 million to support the gun control initiative, while opponents – including the 'all-powerful NRA' – spent only about half a million. Other Microsoft execs pitched in as well.

[…]

Former New York Mayor Michael Bloomberg reportedly spent as much as $50 million from his personal funds just on the 2014 elections, backing the Everytown for Gun Safety movement. Bloomberg has heavily backed Moms Demand Action, formed in response to the Sandy Hook shooting, as well as Mayors Against Illegal Guns, which he formed circa 2006.

Flush with tens of millions in commitments from Bloomberg and other wealthy elites, Moms Demand Action promised back in March 2013 to "punish" lawmakers resistant to gun control in 2014 with new money to push for gun legislation – and Washington state is now a prime example of the support for ballot initiatives that money can buy.

However, reports are floating the idea that this is just a test case of future gun control initiatives to come (Nevada may be next for Bloomberg).
…And is now looking to Nevada, Arizona, Maine and several other states beyond:
Fresh off a string of election victories, former New York City mayor Michael Bloomberg's gun-control group is gearing up for a "significant" legislative push in more than a dozen states to curb gun violence, its leaders say.

First up: Nevada, where election officials could certify this week that the group and its allies have collected enough signatures for a 2016 ballot initiative that would impose stricter background checks on people buying firearms from private sellers and at gun shows. Bloomberg's Everytown for Gun Safety also is weighing similar background-check initiatives in Arizona and Maine.
Bloomberg's strategy to impose gun control at the state level hinges on the ability to use deep pockets to sway voters at the ballot box and bypass lawmakers altogether:
According to the USA Today, Bloomberg is currently weighing a Washington state-like initiative approach in Arizona and Maine. As one of the most gun-friendly states in the union, Arizona will be a challenge for Bloomberg. And voters in Maine just passed on the chance to put a gun control governor in office, choosing instead to stick with pro-gun, NRA-endorsed Governor Paul LePage.

Part of Bloomberg's game is going around elected officials—bypassing legislatures and governors. Therefore, he is weighing his options. At the same time, Bloomberg-funded Everytown for Gun Safety says it could take an active role in pressuring legislatures in up to 20 states.
Playing off the tragedy of the Sandy Hook school shooting and urging piecemeal requirements for "common sense" measures like background checks (tacked on with numerous other stringent requirements), Bloomberg and his billionaires-for-gun-control pals are dismantling 2nd amendment protections one bite at a time.
So much for "shall not be infringed." Bloomberg, current mayor of Everytown, is just getting started:
"This is a huge amount of movement in two years on an issue where Republicans and Democrats ran for the hills for more than a decade," said John Feinblatt, president of Everytown for Gun Safety. "We're going to build on the successes of 2014 and do more."
The National Rifle Association conceded that gun control advocates were outspending its once untouchable lobbying capabilities:
"Their approach is to go into states where it's easy to pass something and claim national momentum," NRA spokesman Andrew Arulanandam said of Bloomberg's group.

"We have $38 billion reasons to take Mike Bloomberg seriously," he added, referring to estimates to Bloomberg's net worth. "His money has exponential reach."