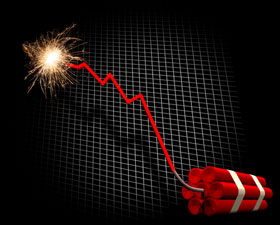 There is further indication that we are swinging dangerously close to another financial collapse.
While markets were spooked in September about the possibility of a Fed rate hike, and the stock market took several dives, things have so far not gone headlong into crisis.
But there are plenty of indications that investors are wary of taking too much risk in the current financial climate. Increasingly, the only real returns are in high risk, high-yield markets.
But most investors are not thrill seeking at the moment, and are shying away from the dismal landscape and numerous scenarios for diasaster. King World News just reported that "frightened investors withdrew a staggering and near Record $63 billion out of mutual funds in the past 3 months."
The World Bank warned that any decision to raise rates would risk "triggering panic and turmoil," but with Janet Yellen's recent mention of a possible rate hike this year, we see that even talking about the rate is driving panic. Yellen exuded a queasy feeling that negates any hunger for investment.
Panic and fright are bad news. The stuff instability is made of. Without ready and willing suckers, err investors, the market cannot stay afloat. There is a panic level index, recognizing the spoiled "appetite" of investors,  that has preceded all of the last few crises on the global stage… and here we go again… we have again reached the danger threshold for panic in global risk appetite.
Via Market Watch:
If it feels like you're reliving the market jitters of the Great Recession and eurozone crisis, it's probably because you are.

During this week, global risk appetite dropped to "panic" levels for the first time since January 2012, according to Credit Suisse's Global Risk Appetite Index. That was back when investors feared a breakup of the euro bloc, grappled with unsustainably high sovereign borrowing costs and freaking out about the spillover from Greece.

Before that, the index reached panic state around the onset of the 2008 financial crisis, after the Sept. 11, 2001 attacks on the U.S., during the dotcom bubble and after Black Monday in 1987. Get the picture?
Historically, financial crisis has frequently and routinely followed the cycles of first, cheap and easy credit that leads to piles of debt and overextended borrowers (a process now on steroids under the Federal Reserve's QE3), then a sharp and painful contraction of the money supply which leaves most, if not all, vulnerable to calls and demands for repayment.
This time around, countless governments, businesses and individuals are already wallowing in debt and on the verge of bankruptcy. Zero percent interest rates have given no return on pensions and investments, and even the slightest grumblings about raising interest rates by even a fraction of a percentage are inducing nausea, dizziness, lightheadedness and ensuing mass panic.
These are not the signs of a healthy economy; take cover.
Read more:
Investments Drop at a Record Pace: "Frightened Investors Withdrew Near Record $63 Billion"
"Looming Catastrophe from Diseased Rates": Billionaire Icahn Warns of Danger Ahead
"Fed Risks Triggering Panic and Turmoil": World Bank Warns Against Raising Rates
"The Market is Uniquely Crash-Prone": Experts Fear Financial Collapse Imminent