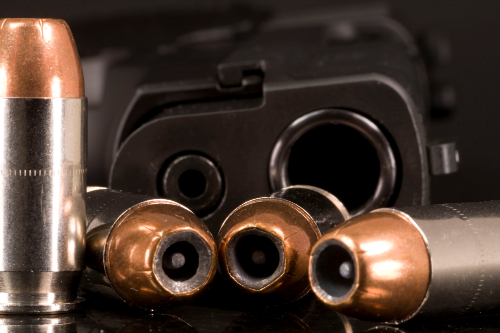 During the last two years of the Obama administration (Fiscal Year 2015 –  2016), law enforcement agencies such as the Department of Homeland Security spent $138 million on new guns and ammunition. But what's strange, is that $20 million was spent on guns and ammunition for federal bureaucrats.
Four notable examples of paper pushers and bureaucrats arming up, according to Forbes, are as follows:
1) The 2,300 Special Agents at the Internal Revenue Service (IRS) are now carrying AR-15's, P90 tactical rifles, and other heavy weaponry. Recently, the IRS armed up with $1.2 million in new ammunition. This was in addition to the $11 million procurement of guns, ammunition, and military-style equipment procured between 2006-2014.  What could go wrong when tax collectors have guns?
2) The Small Business Administration (SBA) spent tens of thousands of taxpayer dollars to load its gun locker with Glocks last year. The SBA wasn't alone in the purchase of guns either. The U.S. Fish and Wildlife Service modified their Glocks with silencers.  And recently a vote on the bill to allow civilians the freedom to hunt with a silencer was "indefinitely postponed."
3) The Department of Veterans Affairs (VA) has a relatively new police force. In 1996, the VA had zero employees with arrest and firearm authority. Today, the VA has 3,700 officers, armed with millions of dollars' worth of guns and ammunition including AR-15's, Sig Sauer handguns, and semi-automatic pistols.
4) The Department of Health and Human Services (HHS) agents also carry the same sophisticated weapons platforms used by our Special Forces military warriors. The HHS gun locker is housed in a new "National Training Operations Center" – a facility at an undisclosed location within the DC beltway.
Last year, Forbes released their OpenTheBooks.com Oversight Report: The Militarization of America in an editorial published with the help of former-U.S. Senator Dr. Tom Coburn at The Wall Street Journal. The report quantified the $1.48 billion spent by 67 non-military federal agencies on guns, ammunition, and military-style equipment from 2006-2014.
Spending on guns and ammo at 58 non-military federal agencies (including 40 regulatory, administrative agencies) amounted to $158 million.  The continued growth of the federal arsenal begs the question: Just whom are the feds planning to battle? 
Federal bureaucrats are amassing arsenals of weapons and many agencies are now battle ready, but that is not a goo
In the aftermath of the deadliest mass shooting in U.S. history, many Washington politicians have tried shifting the conversation to the Second Amendment, reinvigorating the call for tighter gun control. President Trump has an opportunity to propose changes concerning gun control, but not in the way his opponents are calling for.

Trump should listen to the advice former U.S. Senator Dr. Tom Coburn memorialized at Forbes last year after the Orlando nightclub massacre: the non-military, non-law enforcement – paper pushing administrative federal agencies – are the ones who should be subject to stricter gun control laws, not the general public. –Forbes
It may be too late, however. When you give the government socialist powers, somehow, someone is going to be needed to enforce all the rules an all you have to do, is offer them a paycheck – a paycheck stolen from those who they now power over.  It isn't a difficult concept.  It looks like the government will enforce socialism at the barrel of a gun.  Humans don't want to be stolen from and told what to do, and the only way to make them complicit slaves is by threatening to shoot them.    It takes a lot of guns and ammo to enforce a socialist and communist society.