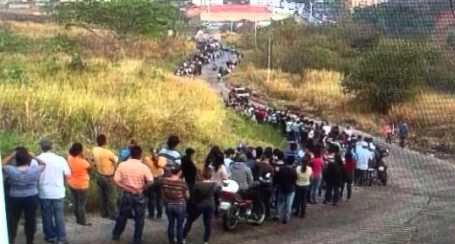 This article was written by Tom Chatham and originally published at his Project Chesapeake website.
Editor's Comment: System breaks down. Lines form, doors shut, shelves go empty. Currency self-implodes. Scarcity, starvation, submission kick in for those who aren't prepared with resources or barter items.
These conditions routinely plague the often poor developing countries, and Venezuela has been the perfect vehicle for disaster socialism, and sadly, the population must now pay the price for their mis-leaders and the failures of pushing to the max with a deeply flawed system. Nevertheless, these problems are being repeated around the world, and especially in Obama's America. Under a Cloward-Piven strategy, the feds are handing out foods stamps like candy, and opening up the floodgates to unlimited immigration and infiltration. No doubt the barbarians are at the gate. In doing so, Obama and his cohorts are facilitating the demise of the country – and bottoming out its living standard under a cruel and calculated controlled demolition.
For greenie environmentalists, it is knocking back the negative impact of Western civilization and forcing austerity within the confines of carbon credits/carbon taxes. For oligarchs, it is a great leveling, and a re-situating of the once well-adjust Middle Class, who must now fit in among a crowded global plantation filled with 21st Century serfs. Run for the hills and take defense measures to survive and avoid the major damage.
Venezuela Could Be The Future of Western Civilization
by Tom Chatham
If anyone wants to see where western civilization is headed they need only to look at Venezuela today. The Bolivar has gone from 6.3 per dollar to 1,000 per dollar in the past few years. Last year farmers were ordered to turn over certain crops to the government for dispersion in government owned stores. About 100 shopping malls are now having their power cut for several hours a day as power shortages become a problem. But, as one citizen said, it doesn't really matter because there isn't anything to buy anyway. Last year their economy dropped 10% and this year it is expected to drop another 8%. They just had 36 747 cargo aircraft deliver newly printed cash to keep up with inflation.
This is the price of socialist programs and lack of sound economic practices. With currency inflating at this rate it is impossible for anyone to save from one year to the next. With government taking farm commodities how long will farmers continue to produce crops they will not get paid for or be paid in increasingly worthless currency. With power shortages commerce cannot continue in any serious way.
Gold has begun its move upwards in reaction to failing bank policies and the realization by the public that all is not well. If you do not get resources before they are gone you will not get them or you will pay dearly for them. Empty stores and closed banks make resource acquisition difficult if not impossible and life becomes much more difficult to survive on a daily basis. Nothing can create shortages like socialist policies and global war.
Saudi Arabia, Turkey the UAE and other actors in the Mideast are massing troops to intervene in the Syrian crisis. They must move soon or rebel forces which include Al Qaeda and ISIS troops will be destroyed by Syrian, Russian and Iranian forces that now threaten Aleppo and soon Raqqa which will end the civil war in Syria once and for all. The latest reports indicate about 350,000 troops, 2,000 tanks, 2,400 airplanes and over 400 helicopters are massing in northern Saudi Arabia. If this force invades Syria it is possible Russia may be forced to utilize tactical nukes to stop them. Once that line has been breached there is no telling where it might end.
One thing that is certain is that bankers and politicians will welcome an escalation to distract the people from the fact that they are about to loose everything they have. Major banks around the world are on the verge of bankruptcy which will trigger a massive derivatives meltdown. When that happens you can kiss any paper assets you have goodbye forever.
In times like this it is only prudent to protect yourself from the machinations of those that push the buttons of global commerce and banking. The rise in gold and silver indicate people are becoming aware of the dangers and are taking defensive positions. Those that realize inflation and shortages of consumer goods are on the horizon are taking the necessary steps to get through the times ahead. They are also taking steps to get through any dangers that governments and bankers are orchestrating to cover their illegal actions.
Let the difficulties in Venezuela be a fair warning of what can happen when the system no longer works properly and you are left to your own devices to get by. The ability to care for yourself is critical when large systems fail. When they fail everything you normally depend on stops and no amount of wishful thinking will change things. If you cannot touch it, you will not have it. A smart man learns from his mistakes. A genius learns from other peoples mistakes. Learn now or pay dearly later.
This article was written by Tom Chatham and originally published at his Project Chesapeake website.