SCHAEF BRIEF:
May 6, 2010 -The Intra-day Crash Heard Around the World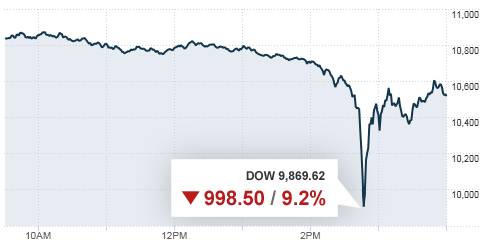 On May 6, 2010, between 2:30pm and 3:00pm EST the American Stock Market experienced the largest intra-day crash in history, falling as much as 998 points before quickly rebounding but still ending the day down 347.80 to 10,520.32.
How Does Something like this Happen? Were investors really panicking enough to send the DOW plunging down 9% in a matter of minutes or was there something else at work here? Before we can answer this we have to look at a few things: How are the values of market indexes actually calculated? Was the market falling as a whole or were there just a few key stocks imploding that gave the appearance of the entire market crashing? What role did computerized trading play in this?
How the Price of the DOW Jones Industrial Average is Calculated. The Dow Jones Industrial Average is computed by taking the average price of the 30 stocks that compose the index and dividing that figure by a number called "the divisor". The divisor is there to take into account stock splits and mergers. Otherwise the index would decrease whenever a stock split took place. As of May 7, 2010, the value of all the stocks combined in the Dow Jones Industrial Average Index equals 1,373.53. The value of the index closed at 10,380.43 on May 7, 2010, therefore the divisor currently is about 0.13231918.
You can u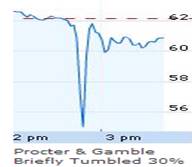 se this divisor to see how an individual stock can impact the entire average. One stock that made the new quite a bit on Thursday was Proctor and Gamble (PG). PG opened the day at 62.16 and dropped as low as 39.37; a change of 37% (30% of which happened in minutes) before rebounding back just as sharply and closing at 60.65.
So, for this brief moment, PG's drop alone caused the DOW to drop over 172 points.
Other Stock "Anomalies" that Day. There were many other instances of stocks plummeting to ridiculous lows at the same time PG was tanking:
Accenture (ACN) opened at 41.96, fell to one penny then closed at 40.86.
Samuel Adams (SAM) opened at 63.17, fell to one penny, then closed at 59.44.
Casey's (CASY) opened at 37.86, fell to one penny, then closed at 37.76
Other stocks fell to fractions of a penny during that period. For a brief moment in time over $1 Trillion of value was completely wiped out before the rebound occurred!
High Frequency Computerized Trading. Now that the "fat-finger trader theory", the theory stating that a trader must have entered in a "B" for billion instead of an "M" for million on a trade, has been debunked most people are pointing the finger at high-frequency trading systems (or HFTs) to be the cause of this temporary meltdown. In short, HFT Systems are basically computer programs that can make thousands of trades per second. In an ever fluctuating stock market, HFT Systems bring in billions of dollars of profit by fractions of a penny at a time. Not only are the trades high frequency, but also high volume. These systems have been compared to Ferraris driving on the same street among tricycles. Sound unfair? After all, us humans can't make decisions that fast, and even if we could we couldn't call our brokers fast enough to execute those trades. Algorithms programmed into these systems look for changes in market activity in order to seek out profit making opportunities. On May 6, 2010 the stage was already set for a volatile day with the uncertainty of Greece's fate. Once the Dow Jones had fallen roughly 400 points that is when some say the computers took on a life of their own. Remember in the movie "War Games" when apparently the computer decided humans were a waste of space so it was going to start an atomic war? Yeah, kinda like that: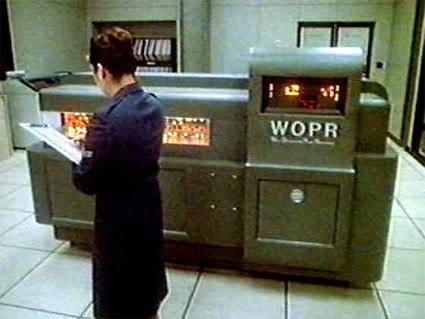 If this alone doesn't make you feel vulnerable or the least bit upset that market activity can be so greatly manipulated, perhaps I should define a few more terms for you:
Front running – When insiders who view pending market orders so that they can place their own trades before you and I do knowing in advance if a stock will rise or fall. For a fee, NASDAQ is willing to let some high frequency traders do this – of course its purely for the purpose of market analysis. You must promise that you won't take advantage of this privilege.
IOCs – Immediate Or Cancel orders issued by HFTs to

probe the market with tiny orders that are immediately canceled in a scheme to gain an illegal view into the other side's willingness to pay.

Arbitrage – Essentially flipping stocks in a matter of seconds to take advantage of market inefficiencies. Us humans can't usually do this as these market inefficiencies usually only last for seconds at a time, but HFT Systems have no problem executing these trades.
Long Term Effects of the Events of 5/6/2010. Fear that the stock market itself is just a house of cards ready to come crashing down at any minute because of "computer interference" is enough to spook every day investors. Many people are saying that 5/6/2010 was too close a reminder of what they went through in the fall of '08, and want to just take their money off the table – especially after having such a nice 14 month bull run.
As markets were imploding on 5/6/2010, can you guess which particular investment was going straight up pretty much the whole time? I'll give you a hint. It looks like this: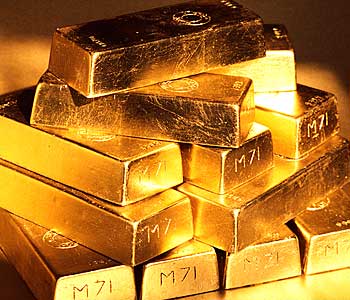 Gold has always been, and will always be, the safe haven of choice for investors in an uncertain economic environment. Why? Because its real money that you can put your hands on. One thing people are learning is that the stock market simply isn't real. At least its not any more real than the equity we used to have in our homes 3 years ago. Will we have another day like 5/6/2010? I don't know, but the more gold I own the more I don't care if we do or not. Bye for now, Schaef.
The Schaef Report is an independent newsletter contributed to SHTFplan.com by Mr. A Schaef. You can receive the Schaef Report in your inbox. It's Free! Subscribe below by providing your name and email address and you'll be automatically added to the monthly distribution list. The Schaef Report and SHTFplan.com take your privacy very seriously and will not distribute or share your email address with other parties.
Error: Contact form not found.