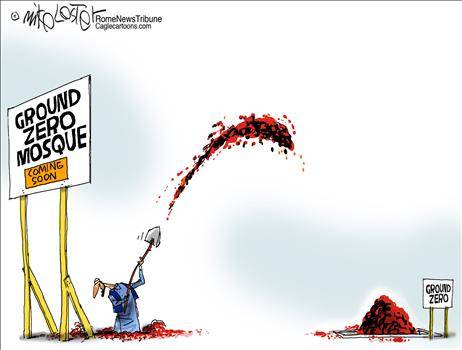 The Ground Zero mosque debate has been heating up not only across the country but across the world. People in Europe, Asia, and (of course) Middle Eastern Countries all seem to have an opinion on whether a mosque should be built 2 blocks away from the site where the World Trade Center once stood.
Those who oppose this project say that it represents an incredible amount of disrespect to the families who lost loved ones on 9/11 and those who are for it (Muslims and non-Muslims) say that allowing it to be built shows that America is tolerant of all religions, is accepting of all people, and believes that there is strength in diversity. After all, that is what America is all about. Isn't it?
A few interesting things to point out about this 13 story mosque/cultural center in particular:
No one can find out where the money is coming from to build it.
It has been said that they plan to open it on 9/11/2011, the 10 year anniversary of when terrorists representing their religion murdered 3000 of our citizens.
Of all the available buildings in Manhattan they are not only choosing one that is 2 blocks away, but the one building available that has a significant piece of the history of September 11, 2001 attached to it, in that a part of one of the planes that struck the towers actually fell through its rooftop.
My questions are:
Why can't we get an answer on whether this mosque is being funded by terrorist countries?
Why open it on that day?
Why build it that close to Ground Zero?
And lastly, why that building?
If I could get legitimate answers to those 4 questions maybe I'd feel a whole lot better about this, but I don't think I will because the real answers are most likely not very legitimate. Perhaps these are just inconvenient coindences that are causing this mosque to be "accidentally controverisal" or perhaps this is this adding up to be the most arrogant, aggressive and audacious provocation that the Religion of Peace has ever perpetrated upon this country (aside from the 9/11 attack itself).
Let's grant them the benefit of the doubt for now, however, and say that they originally meant no offense at all when the plans were drafted to build this place. When they found out how pissed the families were about this, why then didn't the Religion of Peace back off and scrap the project so as not to offend anyone? Why are they persisting and, in fact, demanding that the families of the victims and the rest of us who were either directly or indirectly affected by 9/11 tolerate THEM?
So, where does tolerance end? Where do you draw the line? When do you stop sticking up for Islam and start getting offended? If you are not offended at this proposed mosque/cultural center, then please respond to this article and tell me at what point you would get offended. Would the mosque have to be built on the Ground Zero site itself in order for you to be offended? Would there have to be 19 statues of the victorious highjackers erected in lower Manhattan in order for you to be offended? Please tell me at what point your acceptance and understanding would turn into rage.
Every night on the news we listen to "intellectuals" come on and scream about the hatred and islamophobia of those opposing the mosque (the most vocal of that group being the family members of those who were killed almost 9 years ago). "How far away from Ground Zero does the mosque have to be built in order for you to not get offended?" they ask. My question is this: COULD THEY HAVE CHOSEN A CLOSER SPOT TO BUILD IT? I don't think they could have. Lord knows they looked for one. But what strikes me as a bit inconsistent about these "intellectuals" is that in order to show how sensitive and tolerant they are to The Nation of Islam they have to show the utmost insensitivity to and intolerance for the families of the victims of 9/11 who are expressing their outrage. In doing this the hypocrisy of these "intellectuals" speaks much louder than their empty dogma of "religious tolerance" does. They are not true Americans, and they are not intellectuals. They are brainwashed Marxists – every last one of them.
Where does tolerance end for Islam? You would think that those who are demanding tolerance of us would practice what they preach, right? So how do they tolerate the rest of the world's cultures and religions? They have already shown us. They showed us when they put a school teacher in jail because she let her students name a teddy bear 'Muhammed'. They showed us when they screamed "Allah Akbar!" (which means our God is greater than your God) as they decapitated civilians in front of a video camera. They showed us when they protested in the streets over a Danish cartoonist who drew a picture of their beloved Muhammed (incidentally, they also burnt his house down). Oh yeah, I almost forgot, they also showed us when they crashed 2 planes into the World Trade Center, one into the Pentagon and one in a field in Pennsylvania all because we are a nation of "infidels".
And yes, I am using "they" in the sense of "all Muslims", not just the so-called terrorists. The book of Islam, the Koran, calls for Jihad (the holy war) against the infidels. If you are a true Muslim then you're a terrorist because Jihad is what Islam demands. If you don't believe in Jihad then you're not a true Muslim, and so you're just like one of those "hypocritical Christians" who goes to church only on Christmas and Easter, and you shouldn't give a shit about where your place of worship is being built because you hardly ever go there anyway.
But wait a minute. There's something very important that I left out here. We are Americans. Is it not in our culture to rise up and be the "bigger person" in all of this? Is it not in our culture to tolerate when others don't, to forgive when others won't, and to harbor those in need of a safe haven? Well, it used to be. The truth is that today in America we aren't allowed to have a "culture" anymore. Those who attempt to rewrite history tell us that we are supposed to be the great "melting pot of all cultures" that wasn't founded on any religious principles at all, and of course this serves as the premise to accepting all religions in the world as being equally harmless. We now are told that "old cultures" (cultures which integrate a specific religion of choice) are bad because they "cling to guns and their bibles" and this promotes a certain closed-mindedness and intolerance of different ideas that challenge our way of thinking.
What better way, then, can we show to the whole world how tolerant we are than to allow the most intolerant group of people on the planet to build a testament to their victory over us, the infidels, to the dismay of all of those who continue to suffer over the loss of their loved ones? What better way can we promote freedom of religion than to allow those who want to destroy all other religions to open their Victory Mosque on the 10th anniversary of the worst tragedy on American soil WHICH WAS CAUSED BY THEM NO LESS?
Where does tolerance end? This country had a culture once, but its descent into the abyss of political correctness and blind acceptance of all other cultures and religions (especially the ones that hate everything America stands for) in the name of "tolerance", "acceptance" and "strength in diversity" is causing this nation to become a cultural vaccuum that no longer allows anything to be held sacred, not even the very foundation that made this country so great to begin with.
That's my 2 cents.
-Schaef
---
The Schaef Report is an independent newsletter contributed to SHTFplan.com by Mr. A Schaef. You can receive the Schaef Report in your inbox. It's Free! Subscribe below by providing your name and email address and you'll be automatically added to the monthly distribution list. The Schaef Report and SHTFplan.com take your privacy very seriously and will not distribute or share your email address with other parties.
Error: Contact form not found.