In January of 1980 gold hit an all time historical high of $850. As the bubble popped, it subsequently fell to nearly $250 by the end of the 1980's and continued in this price range for the next decade.
As the US government took on more debt, printed more dollars and began to lose the confidence of the global investing public, the price of gold began a meteoric rise, topping out at $1801 per ounce in August of 2011.
Analysts and financial pundits the world over have suggested that gold is in a bubble and a crash is imminent. While volatility will remain a constant for months and perhaps years to come, and gold may see significant price collapses, as it did in late 2008, the question of whether or not gold is actually in a bubble is debatable – at least in the mainstream.
Our view, which we have maintained for several years, is that gold is nowhere near a bubble, and is displaying none of the signs of an end to a bull cycle run.
In fact, if current events are truly to be described as the worst recession and economic crisis since the Great Depression, then chances are gold is going to explode even higher. The recession of the 1970's was tough and lasted nearly a decade. Over this time period, gold rose and collapsed several times, dropping nearly 50% of its value in the mid 1970's, and then once again resuming its price rise. Arguably, we are much worse off in terms of economic viability and growth than we were in the 70's (and perhaps even the Great Depression).
With that in mind, we present to you the following chart sourced from Chart Works Ross Clark, Shadowstats, and Erste Group Research. Unlike other charts that we may have seen where the price of gold is adjusted for inflation, in the below graphic you'll see gold charted from the standpoint of deflating its value with the SGS Shadowstats CPI alternative.
The takeaway? Gold would have to triple (at least) from where it is today just to reach the highs of January 1980.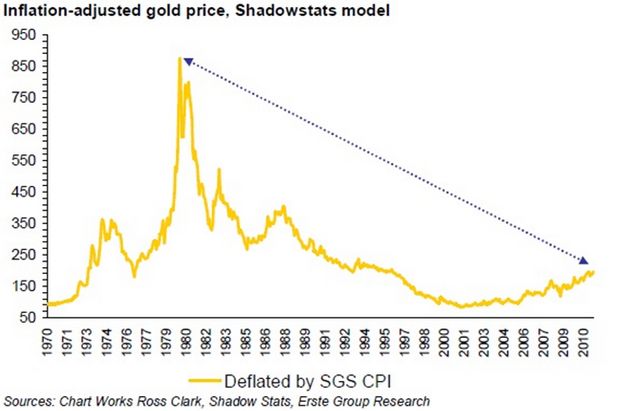 As evidenced, we have yet to see the parabolic move that we saw from the late 1970's into January of 1980.
Hold on to your gold. It'll buy a lot more than just a nice suit in the (near) future.
Hat tip Daily Bail