Adrian Ash of BullionVault.com writes Gold & Deflation: A Trick Question.
Indeed, Japan is the only developed nation since the end of the Gold Standard to have suffered an extended deflation in prices. So far, at least. Germany and Switzerland look set to try for a re-wind, and unless the Dollar can outpace the Euro's descent, we might yet see truly sub-zero inflation in the United States, too.

 

But whatever that should mean for Gold Prices, all other things being equal, just doesn't matter. Because the gold price will not get chance. All other things are not equal, and the policy solution – rank devaluation – can only make gold more appealing to investors and savers, whether the "monetarist experiment" of TARP, quantitative easing or a half-trillion euros proves successful or not.

 

Japan's slump into deflation coincided with the Bank of Japan's "zero interest rate policy" (ZIRP) at the start of this decade. It also saw the Gold Price worldwide hit rock-bottom and turn higher, a move that analysts (including us) have typically linked to US monetary moves and investment cash looking for safety as the Dotcom Bubble exploded.

 

But zero-rate money from the world's second-largest economy shouldn't be ignored. And today, zero-rate money is all the developed world has to offer – a trick that might not beat deflation, but might just spur a whole new rush into gold.
Gold in Deflation: Japan's Experience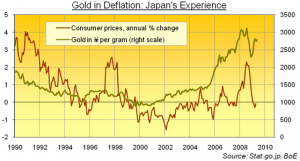 source: Stat.go.jp.Boe
 
Comments: Looking for a safe investment during a global economic crisis? Hint: Try gold. It rises during inflation. It rises during deflation.