This article was originally published by Jeremiah Johnson at Tess Pennington's ReadyNutrition.com
Tess is the author of The Prepper's Blueprint: How To Survive ANY Disaster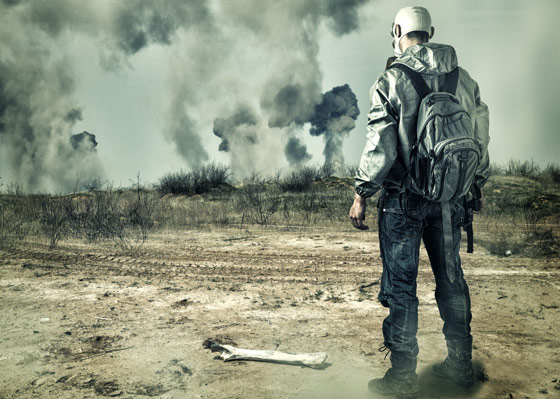 There's quite a bit of gear that I buy that is expensive. This is an abbreviated list of things that it is best to go with quality first: if you can find a deal, then do so, but not at the expense of the item's quality being substituted. Some examples are firearms, optics (for daytime or for night-vision), cold weather gear, foot gear, snivel gear (sleeping bags, one to two-person tents), and blades/knives. These items you should always go with the best and with the type that is optimal for you to use effectively. In the interests of survival and adaptability, there are some instances where you can (and should) use something not so pricey if it will foot the bill.
One area you may wish to invest that is within your budget is gear that you can stow due to its collapsible nature that will help you out when you need it when the going gets tough. I'm talking about more than a "mess kit" for your food, or a sleeping pad for under your sleeping bag.
I'm referring to nylon bags that you can stow in your vehicle, in your backpack, or even keep on your person.
When it hits the fan, there's going to be a tremendous amount of disorder. In this case, we're putting English Property Laws and the innumerable, uncountable laws of the United States, its states, counties, towns, neighborhoods, etc., aside. This is information you will need for a disaster, for a collapse, or TEOTWAWKI (The End of the World as we Know it), i.e., "this is the end" pat phrase. There will be a tremendous amount of stuff laying around, or stuff that you are going to need. Scavenge when you are able, and use the nylon bags to do it.
You can fold these things up so that they will fit inside of your back pocket. There are a few different types to choose from. I'm going to put some photos up for you, so you'll have an idea of what I'm talking about, right off of Amazon.com.
Here is one type, listed as Liberty Bags 8882 Large Nylon Drawstring Backpack (Amazon link). You can pick up a 6-Pack of these things for $14.
The reasons this one is perfect? It is portable and collapsible. It has those two backpack loops that can either be worn or tied off to the outside of a backpack. What is the use? Oh, I don't know…like maybe as it was in Hurricane Katrina when the cops permitted anyone who needed food to go into Wal-Mart and load up on canned goods and packaged food. You get the idea: this is better than just trying to grab a whole bunch of grocery bags and "wing" it.
In addition, you can "tag" and categorize them…one bag for canned food, another for OTC meds, and so forth. No, really! When it hits, let them send you a bill! You can pay them in Federal Reserve Notes…or leave it out for them. Leave your card on the counter…you won't be needing it later.
You can put one or two of them in your backpack, one or two in the car, and maybe even stick one in your briefcase or work bag. Hey, guess what? You may need to clean out your desk and office, and there you are…voila! A bag to load all of your stuff in. If you listened to me, I've been writing for years about how you need an emergency food supply at work for your office or locker. When it hits the fan, you aren't going to abandon that food…and with this bag, you can cram all of it in there, tie it off, and hoof it.
They had a few more types listed there, but this one looks the best for the money, and for what we would intend to use it for. Then when you're in a safe area, you can download your stuff into something a little more rugged. Depending on how many are in your family/tribal group, you may wish to order a couple of sets so that everyone can have two or three bags. They are not expensive, and you can also use them for a few other things. Suppose something carrying food either breaks or is crushed? You can transfer the stuff to one of the bags.
If equipment goes down (as it is prone to do) you can use these bags as backups for your main backpack or load carrying gear…until you can effect repairs and bring them back up to speed. Another thing is footgear. If you wet the footgear and have another pair, you can stow the wet pair in one of these bags…nylon will not be worse for wear…and then dry them out later. You're only limited by your imagination. I have a couple already, but I'm going to pick up a half a dozen of these…as they're not something you find out in the stores that often. Stay in that good fight, and fight it to win.  JJ out!
About the Author
Jeremiah Johnson is the Nom de plume of a retired Green Beret of the United States Army Special Forces (Airborne). Mr. Johnson was a Special Forces Medic, EMT and ACLS-certified, with comprehensive training in wilderness survival, rescue, and patient-extraction. He is a Certified Master Herbalist and a graduate of the Global College of Natural Medicine of Santa Ana, CA. A graduate of the U.S. Army's survival course of SERE school (Survival Evasion Resistance Escape), Mr. Johnson also successfully completed the Montana Master Food Preserver Course for home-canning, smoking, and dehydrating foods.
Mr. Johnson dries and tinctures a wide variety of medicinal herbs taken by wild crafting and cultivation, in addition to preserving and canning his own food. An expert in land navigation, survival, mountaineering, and parachuting as trained by the United States Army, Mr. Johnson is an ardent advocate for preparedness, self-sufficiency, and long-term disaster sustainability for families. He and his wife survived Hurricane Katrina and its aftermath. Cross-trained as a Special Forces Engineer, he is an expert in supply, logistics, transport, and long-term storage of perishable materials, having incorporated many of these techniques plus some unique innovations in his own homestead.
Mr. Johnson brings practical, tested experience firmly rooted in formal education to his writings and to our team. He and his wife live in a cabin in the mountains of Western Montana with their three cats.
---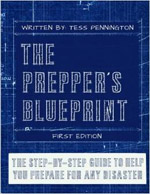 Tess Pennington is the author of The Prepper's Blueprint, a comprehensive guide that uses real-life scenarios to help you prepare for any disaster. Because a crisis rarely stops with a triggering event the aftermath can spiral, having the capacity to cripple our normal ways of life. The well-rounded, multi-layered approach outlined in the Blueprint helps you make sense of a wide array of preparedness concepts through easily digestible action items and supply lists.
Tess is also the author of the highly rated Prepper's Cookbook, which helps you to create a plan for stocking, organizing and maintaining a proper emergency food supply and includes over 300 recipes for nutritious, delicious, life-saving meals. 
Visit her website at ReadyNutrition.com for an extensive compilation of free information on preparedness, homesteading, and healthy living.