For the average American the thought of borrowing money for a  bailout is simply not an option, either because they understand the dangers of debt being used to cover debt or they don't qualify for the loans in today's economic climate. For our federal government, as ridiculous as the concept sounds, it is the only option.
If you operated this way, you'd be broke, hungry and living on the street:
Via The Daily Sheeple: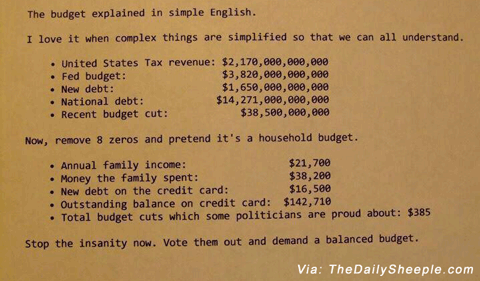 Consider the predicament you'd find yourself in if your employment or source of income were terminated as of right now and that regular paycheck on which you depend to pay the rent, food, car, insurance and discretionary consumption stopped coming your way. The world as you know it would almost immediately cease to exist.
In a country where nearly 50 million require government assistance to put food on the table and almost one-third of the population is poverty stricken, those who do maintain gainful employment are living paycheck to paycheck.
If the paycheck stops, the game for the average person is over.
Whatever savings surplus one may have had before the crisis, three years on many have tapped out their reserves while trying to maintain a life that is no longer financially feasible. With the economic crisis having nearly frozen credit markets a few years ago, lending has all but dried up for anyone but the top earners and those with deep connections in the financial community.
The only entity that has the ability to bail itself out of crisis through borrowing is the federal government. In the summer of 2011 the possibility of US government default on some of its payments was headline news. The crisis was averted at the eleventh hour when Congress approved a trillion dollar-plus debt limit increase on spending. What no one really talked about at the time, as they assumed we were getting back on track again, was that this was just another short-term solution to a much larger issue, as evidenced by our nation's record year end closing debt levels of $15.2 trillion and the President's recent request for an additional $1.2 trillion. That's right, in about half a year we blew the original $1 trillion, and now need another $1.2 trillion.
By all accounts, our entire country is a paycheck player.
You see, if Congress fails to approve that debt ceiling increase we face exactly the same problem as we did last summer. It would be an unprecedented loss of confidence in the US government. The implications of not approving the debt limit increase are simply not politically expedient, nor is any politician willing or capable of dealing with the complete collapse of the economic and financial system as we know it.
Default would cause an economic Tsunami unlike anything we've ever seen. Last year Federal Reserve chairman Ben Bernanke warned of the ramifications if the government stopped recieving its taxpayer funded entitlement payments:
It would be an extremely dangerous and very likely recovery ending event.

First, it would almost certainly create a new financial crisis, as firms that rely on receiving their interest and principal do not receive it, and they're unable to make payments, and so that problem would cascade through the financial markets.

Then there would be a massive loss of confidence in US Treasury securities, which are the deepest, most liquid market in the world. Interest rates would spike, and that would in turn affect many other assets as well as Treasuries.

…Broadly speaking, it would be, I think , a very, very bad outcome for the US economy.
Undoubtedly, Congress will once again approve the increase, buying us another few quarters before we need more money. This will go on indefinitely, as this is the only strategy that can keep the paycheck coming.  Tax revenues simply won't cut it – not in a depressionary environment like ours.
We'll keep raising our debt limit, because hey, who wouldn't give themselves free money if they had the ability to do so?
The problem, of course, is that despite what most of our inept elected representatives think, the money is not free and has to come from somewhere. In our case, it's international lenders like China, Japan and Russia – all of whom are actively positioning themselves to reduce their dollar activity and holdings.
The simply fact of the matter is that our foreign creditors are only playing the game until they have diversified their assets enough to not have to play anymore.
Then, in the words of possible Independent Party Presidential candidate Donald Trump, "You're fired!"
No more paycheck.