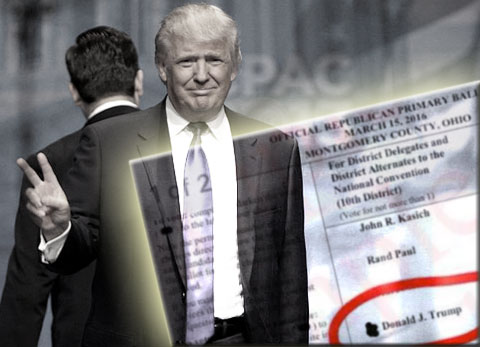 This article was written by Piper McGowan and originally published at The Daily Sheeple.
Editor's Comment:  The GOP has a history of manipulating the primary, but this time they are going all out to destroy Trump. Is it any wonder that Ohio's ballot – which will be cast next week – is so confusing that Trump may lose votes just as a result of the ballot's design?
It is the home state of Governor John Kasich – a lackluster candidate who, nonetheless, was expected to win Ohio, and keep the delegates for the establishment side. But according to the polls, Trump is beating Kasich in Ohio AND Rubio in Florida – and they are big delegate, winner take all states. However, Kasich is close enough in his homestate, that a bit of meddling could change things. If Trump wins both, the GOP insiders have even less of a chance to trip up The Donald.
But if the Ohio GOP ballot leaves as many people scratching their heads as the newscaster in the video below, anything could happen in Ohio. Polls will not translate into votes if the machines are designed to deceive.
You Won't Believe What They Did to the Ohio Ballot to Stop Trump
by Piper McGowan
We all know the elite are on the warpath against Donald Trump, with everyone from pundits, to major world leaders, to the Pope speaking out against him. Newt Gingrich recently said it's because Trump isn't part of the secret societies and hasn't taken the initiation rites.
Regardless, Trump has received a groundswell of support from the average conservative American, winning state primaries left and right. Ohio's primary is coming up on March 15, and it's a big one because it's a "winner takes all" state.
Well now it's being alleged that Ohio's GOP has intentionally set up a confusing ballot in a bid to try to make sure Donald Trump does not win.
The Dem ballot has one place for voters to mark their choice for president. Period.
The Republican ballot in Ohio this year apparently has two, leaving a lot more questions than answers about whether or not voters will understand how it works.
Take a look, (via the Conservative Treehouse):
Is the ballot intentionally confusing by design?

Given the previous discussions on State Party shenanigans, and the intent of state republican party leadership to hold complete influence over their delegate's decision-making, many believe the answer is "probably".
Look at that ballot. It definitely raises a lot of questions… that aren't answered on the ballot.
Do the majority of voters know the difference between "Delegates-at-Large" and "District Delegates"? Does a person need to choose their candidate twice, or are they only supposed to chose once? Which is right? What if they pick a different candidate in each box, do they cancel each other out? What if they pick someone in the first box and not the second, or vice versa?
Why the confusing GOP ballot, Ohio?