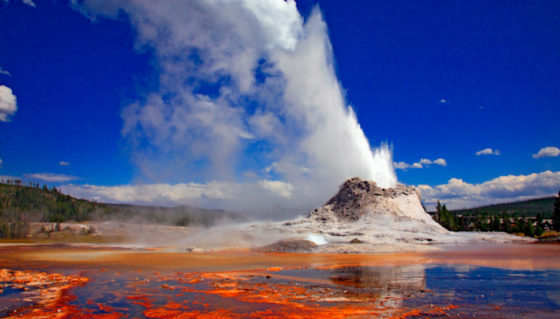 Park officials have stated that Yellowstone volcano's Steamboat Geyser is erupting at unprecedented rates, matching decades-old records for the amount of scolding water spewed from the ground.  The Steamboat Geyser continues to be an enigma, one in which sparks fears of a massive supervolcano eruption.
The iconic Yellowstone volcano landmark is the world's tallest and most active geyser but recent activity has gone off the charts. Yellowstone Volcano Observatory (YVO) geologists monitoring the supervolcano complex have noted almost weekly water eruptions from the geyser this year.  The Steamboat geyser has been erupting every 7-10 day for the past six weeks.
According to the Express, during an eruption, it can spew near-boiling jets of water between 10 feet and 300 feet (3 meters to 91.4 meters) high. Eruptions typically last between one and four minutes and can come with intervals of two to five minutes at a time.  Steamboat has so far erupted a total of 29 times in 2018, matching the record for most eruptions in one year from 1964. If the ongoing rate of eruptions continues, officials believe Steamboat will break the record in just days from now.
As of right now, the Norris Geyser Basin, where the Steamboat geyser is located, is closed to the public. However, after December 15 when the winter season begins in Yellowstone, you will be able to visit the geyser. According to KPAX 8, in order to get there, you'll have to take either a snowcoach or snowmobile tour to Norris and then walk down snow-covered trails and boardwalks to see it.
In the meantime, Yellowstone National Park Spokesperson Morgan Warthin says the geyser's eruptions are a pretty big deal for scientists. "You know, for scientists, they're excited. I think everyone's excited but in particular, the scientists because Steamboat is doing something that it hasn't done for quite some time. So, for scientists it's an opportunity to learn more about this really unique, and what was random, geyser that has now become not so random," said Warthin.
Along with Steamboats eruptions, geologists have also been recording an increase in seismic activity.  A total of 126 earthquakes rocket the park in November. "The largest event was a minor earthquake of magnitude 2.4 located 15 miles north of West Yellowstone, MT, on November 4, at 10:11 AM MST," said YVO in a statement.  Park officials say that this level of seismic activity is "common" and that there's no need to be worried the supervolcano will erupt anytime soon.
https://www.shtfplan.com/headline-news/what-would-happen-to-the-world-if-the-yellowstone-super-volcano-erupted-right-now_11142017