This article was originally published by B.N. Frank at Activist Post.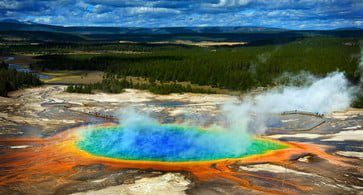 American opposition to cell tower and 5G installation has been increasing in national parks (see 1, 2, 3) including Yellowstone (see 1, 2).  There's finally some good news to report about this.
---
Yellowstone National Park Working To Remove Unsightly Cell Towers
A tentative deal has been reached between the National Park Service and Verizon to remove an unsightly cell tower that stands on a ridge above the Old Faithful complex in Yellowstone National Park, according to the park's superintendent.
Under the plan, the tower will be relocated "somewhere in the government area" of the Old Faithful area and "likely won't be as tall," said Cam Sholly.
Removing the tower will resolve some current "scenic resource degradation" it now causes, and should improve cell coverage in the Old Faithful area while also substantially reducing "the bleed over into the backcountry," he said during a phone call.
"It's actually going to shrink coverage, but it's going to make it better in the area that it's in, right there in the developed site," Sholly said last week. The new tower likely is "going to be invisible to the public," he added.
Elsewhere in the park, the superintendent said he wanted to relocate another tower that's currently on a ridge above Mammoth Hot Springs to a less conspicuous site.
Sholly also has instituted a moratorium on additional cell towers in the park.
"We've basically made it indefinite," he replied when asked how long it would be in place. "So I'm not even considering new towers."
At the same time, park staff currently is reviewing public comments received on a plan to install fiber optic cable in the park.
"We'll make a decision on that soon. There are some good comments in there," the superintendent said.
Under that proposal, a fiber-optic network running nearly 200 miles would be brought into developed areas in the park to improve telecommunications and allow for the removal of microwave dishes and other telecommunication equipment atop mountaintops. The plan calls for fiber optic cable to be installed along existing park roads. Additionally, existing telecommunications equipment in the general vicinity of Madison, one in the Old Faithful area, one on Bunsen Peak, and two on Buffalo Plateau would be removed.
Going forward, Sholly said the park will not take a piecemeal approach to expanding cell coverage. Simply installing the "newest technology of the day" isn't a sound approach, he said. Rather, he hopes to look for the best technology "that reduces the resource degradation of the past."