This report was originally published by Michael Snyder at The Economic Collapse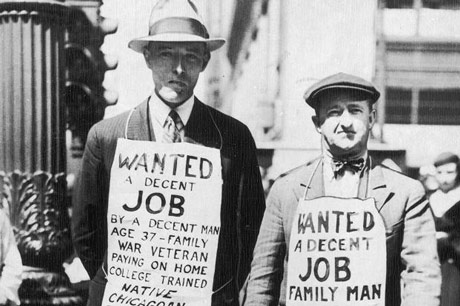 We just got more evidence that the U.S. economy is starting to slow down. The U.S. economy must produce somewhere around 200,000 jobs a month just to keep up with population growth, and last month we were way below that number. In fact, the employment numbers that the government released on Friday were the worst that we have seen in an entire year. In late 2018, the IMF is openly warning of "a second Great Depression", and indications that another economic crisis is coming are emerging all around us. Many had been hoping that very strong employment numbers on Friday would change that trend, but instead it was "the worst performance since last September"…
Nonfarm payrolls rose just 134,000, well below Refinitiv estimates of 185,000 and the worst performance since last September, when a labor strike weighed on the numbers.
But even though the number of jobs created did not even come close to keeping up with population growth, we are told that the unemployment rate actually declined, and some media outlets are proudly touting this as some sort of "success".
Of course other numbers actually show that the unemployment rate is rising. The following comes from CNBC…
A separate measure of unemployment that includes discouraged workers and those holding jobs part-time for economic reasons — sometimes called the "real unemployment rate" — edged higher to 7.5 percent.
And according to shadowstats.com, the actual unemployment rate in the United States right now is 21.3 percent.  That is down slightly from the peak, but it is nowhere even close to where we were before the last recession.
There are many out there that desperately want to believe that the U.S. economy is "booming", but that simply is not accurate.
If the U.S. economy really is "booming", then why has "the largest ever homeless encampment" that Minneapolis has ever seen just gone up?…
The Associated Press (AP) has revealed a troubling story of the largest ever homeless encampment site mostly made up of Native Americans has quickly erected just south of downtown Minneapolis, Minnesota.

City officials are scrambling to contain the situation as two deaths in recent weeks, concerns about disease and infection, illicit drug use and the coming winter season, have sounded the alarm of a developing public health crisis.
We also got another really bad piece of economic news on Friday.
According to official government numbers, the U.S. trade deficit increased once again in August…
The US Census Bureau reported Friday that the trade deficit increased to $53.2 billion in August for both goods and services, up from $50.0 billion in July. The goods trade deficit, which draws most of Trump's attention, also increased to $86.3 billion, a $3.8 billion increase from the month before.

The primary reason for the increase in the deficit was a collapse in exports, especially soybeans, which fell off by $1 billion, a 28% drop from the month prior. China, the largest buyer of US soybeans, imposed tariffs on the American crop and it appears the restrictions are taking a toll.
One of the primary goals of the trade war is to decrease the size of our trade deficit, and so far it is not working.
Financial markets responded very negatively to all of the bad economic news. Stocks plunged for a third straight day on Friday, and the Nasdaq was hit particularly hard…
US equity markets were pressured for a third straight day Friday, with all of the major averages sporting losses of at least 1% at their lows. Heavy selling pushed the tech-heavy Nasdaq down by as much as 2.1%, before rebounding and finishing with a loss of just more than 1%.
Overall, it was a very tough week on Wall Street. The following is how Zero Hedge summarized the carnage…
US Stocks – worst 2-day drop since May
Small Caps, Nasdaq – biggest weekly drop in 7 months
Small Caps – biggest 5-week drop since Nov 2016
China (closed) ETF – biggest weekly drop in 7 months
Semis – biggest weekly drop in 6 months
FANGs – biggest weekly drop in 7 months
Homebuilders – worst.losing.streak.ever…
USD Index – best week in 2 months
HY Bonds – biggest weekly price drop in 8 months
IG Bonds – biggest weekly drop since Nov 2016
Treasury Yields – biggest weekly yield spike in 8 months
Yield Curve – biggest weekly steepening in 8 months
Gold – best weekly gain in 6 weeks
In particular, it is absolutely stunning what is happening to homebuilder stocks. They have now fallen for 13 days in a row, and that could be another very clear indication that a housing crash is coming.
None of the problems that caused the crash of 2008 have been fixed. It absolutely amazes me that some people think that you can "fix" our economy by tinkering with the tax code a little bit and getting rid of a few regulations. A handful of marginal changes is not going to alter our long-term outlook one bit.
The truth is that our economic system requires extensive emergency surgery. We need to abolish the Federal Reserve, abolish the IRS, abolish the income tax and start using currency that is not created by debt. And that would just be for starters. Our current economic system is fundamentally flawed, and in the long-term it is inevitably going to fail. The best that anyone can do in the short-term is to keep inflating the bubbles so that things will hold together long enough until they can become somebody else's problem.
Right now, the only way that we can achieve economic growth is by growing debt at a far faster pace than the overall economy is expanding. That is a recipe for a long-term disaster, and everyone knows that we are in the process of committing national suicide, but nobody is really doing anything to stop it.
Sadly, it is probably going to take another major crisis before people start calling for real change, and that is extremely unfortunate.
***
About the author: Michael Snyder is a nationally syndicated writer, media personality and political activist. He is publisher of The Most Important News and the author of four books including The Beginning Of The End and Living A Life That Really Matters.
The Last Days Warrior Summit is the premier online event of 2018 for Christians, Conservatives and Patriots.  It is a premium-members only international event that will empower and equip you with the knowledge and tools that you need as global events begin to escalate dramatically.  The speaker list includes Michael Snyder, Mike Adams, Dave Daubenmire, Ray Gano, Dr. Daniel Daves, Gary Kah, Justus Knight, Doug Krieger, Lyn Leahz, Laura Maxwell and many more. Full summit access will begin on October 25th, and if you would like to register for this unprecedented event you can do so right here.