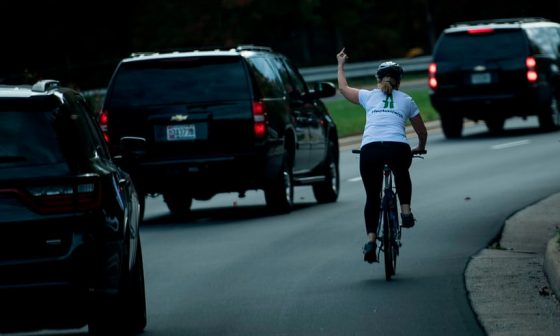 The woman made infamous for flipping off president Donald Trump's motorcade says she was fired from her job for her childish behavior. Juli Briskman said the marketing company bosses called her in and gave her the boot.
But, nonetheless, the 50-year-old says she has no regrets about flipping off the president's motorcade. Briskman was cycling in Virginia last month when she offered the gesture in what she described as a "gut reaction" to Donald Trump's policies. "He was passing by and my blood just started to boil," she told the Huffington Post. "I'm thinking, DACA (aka, "dreamers," children of illegal immigrants who were allowed to stay in the United States) recipients are getting kicked out. He pulled ads for open enrollment in Obamacare. Only one-third of Puerto Rico has power. I'm thinking, he's at the damn golf course again."
A photographer traveling with the presidential motorcade snapped Briskman's picture and the image quickly spread across news outlets and social media. Many hailed Briskman as a hero, with some saying she should run in the 2020 election; while others called her disrespectful, emotionally driven, and childish.
"I flipped off the motorcade a number of times," Briskman added. But her bosses didn't find her little stunt all that entertaining, or in accordance with how the company perceives the manner in which an employee should conduct themselves in or out of the workplace.
Briskman had been working as a marketing and communications specialist for a Virginia-based federal contractor, Akima, for six months. She thought it best detail to the human resources department that she was now infamous for being emotionally unstable and flipping off the president. With all of the online fuss around her actions, the company would have likely found out about her antics anyway.
Bosses called her into a meeting after she ratted herself out, she said. "They said, 'We're separating from you,'" Briskman told the Huffington Post. "'Basically, you cannot have lewd or obscene things in your social media.' So they were calling flipping him off obscene." Unfortunately for Briskman, that's fairly common among companies. Most want their employees to behave in a manner befitting the company (including on social media), and flipping off the president probably didn't make Akima look all that great. One would expect the exact same reaction from a boss should a person have been fired for flipping off President Obama's motorcade.
She said the company was displeased she had used the image as her profile picture on Twitter and Facebook and the bosses told her that using the image violated social media policy and could hurt the company's reputation as a government contractor. Briskman said she pointed out that her social media pages do not mention her employer. She also tried to shift blame when she said another employee had written a profane insult about someone on Facebook, but had been allowed to keep his job after deleting the post and being reprimanded. Unfortunately, Briskman cannot simply "delete" what she did considering the photo went viral; but it's oddly amusing she tried to throw a fellow employee under the bus for her misdeeds.
Virginia, however, has "at will" employment laws, meaning private-sector employers can fire anyone for any reason. Suddenly, the emotionally unstable 50-year-old mother of two found herself looking for a new job. Briskman, who votes Democratic (big surprise), said she planned to look for a new job with an advocacy group she believes in, such as Planned Parenthood or People for the Ethical Treatment of Animals (PETA).
That seems about right for a Democrat. Advocate for the slaughter of innocent human beings while saving all the animals.