This report was originally published by Paul Joseph Watson at Infowars.com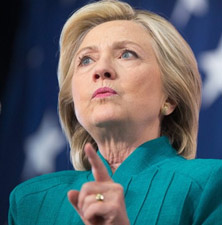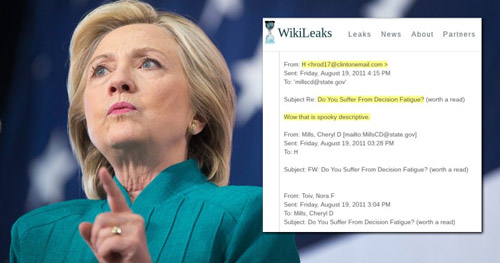 Emails released by Wikileaks show that Hillary Clinton looked into a drug used to treat sleepiness and Parkinson's disease after she apparently began suffering from "decision fatigue" back in 2011.
Clinton sent an email to close confidante and advisor Cheryl D. Mills on August 19, 2011 featuring the text of an article entitled Do You Suffer From Decision Fatigue?
The article talks about how people in positions of power and influence can suffer from "decision fatigue" that causes them to be "low on mental energy" and prompts the sufferer to "become reckless" and "act impulsively".
The article also explains how "decision fatigue" could explain why "ordinarily sensible people get angry at colleagues," which is possibly a nod to Clinton's infamous temper tantrums that have left her staffers in tears.
"Wow that is spooky descriptive," wrote Hillary in response to the article.
In a separate email sent two months later, Hillary received information from her top foreign policy advisor Jacob Sullivan about a drug called Provigil (Modafinil), which is used to treat "excessive sleepiness in patients with Parkinson's, Alzheimer's, and multiple sclerosis," as well as "excessive sleepiness caused by narcolepsy".
Clinton looked at drug after suffering from 'decision fatigue' 1) https://t.co/BGMmiHjn0r 2) https://t.co/ftmwzMcE9U pic.twitter.com/dEcdNXgxz9

— WikiLeaks (@wikileaks) August 23, 2016
The fact that the drug is used to treat Parkinson's is interesting in light of what we were told by a Secret Service whistleblower earlier this month, that Hillary has a serious neurological disease.
The date of the emails is significant because Hillary's apparent problems with "decision fatigue" were evident before she fell and hit her head in 2012.
While the mainstream media continues to dismiss questions over Hillary's health as a "conspiracy theory," more prominent voices are beginning to express the same concerns.
Yesterday we reported on top doctor and Rutgers University Professor of Medicine Bob Lahita's call for Hillary to be assessed by an impartial panel of physicians to ensure she is fit for office.
Hillary attempted to deflect suspicions over her health during an appearance on the Jimmy Kimmel Live last night….by opening an already opened jar of pickles.
I guess that settles it then.
Facebook: https://www.facebook.com/paul.j.watson.71
*********************
Paul Joseph Watson is the editor at large of Infowars.com and Prison Planet.com.