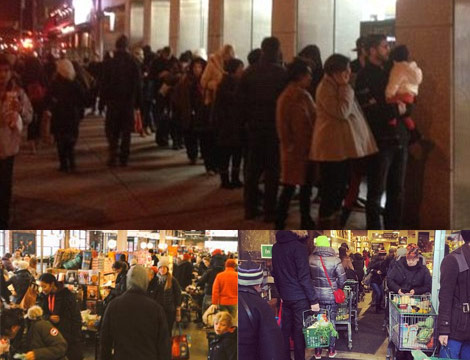 (Panic In Northeast: Tens of thousands raid grocery stores in search of food and supplies)
Time and again we are reminded why it is prudent to have a back up plan just in case things go wrong. You've already got car insurance, house insurance, medical insurance and life insurance. But what about disaster insurance? And no, we're not talking about a piece of paper guarantee issued by some behemoth corporation who you're supposed to call when things go wrong.
Real disaster insurance in this context refers to your own personal and familial emergency reserve supplies and strategies, to be consumed and implemented when all hell breaks loose.
What's happening in the North Eastern part of the United States right now – "Snowpacolypse" – should convince anyone who hasn't done so yet to prepare themselves for short- and long-term calamities. They happen quite regularly all over the world. We've seen them hit time and again in both, first and third world nations in the form of storms, natural disasters and even economic meltdowns. Yet, despite the repeated media broadcasts of suffering and complete destitution often wrought by these events, millions of people still laugh at the notion that, as even the government recommends, you should have a two week emergency supply of food, water and other disaster gear.
It is these very people – the ones who call preppers crazy and snicker at their idea of prudent preparedness and self sustainability – who will be out in force to loot, pillage and kill for these critical lifesaving supplies when a widespread disaster or emergency strikes their area. And no, we're not talking about a 3-day scenario like a snow storm, which is limited in scope and comes with warnings ahead of time, with supply lines being restocked soon after the storm passes.
Rather, we're talking about any number of events that are capable of crippling our entire nation in one fell swoop for an extended period of time lasting two weeks or more. These may include national-scale disasters such as a cyber-attack on our utility infrastructure, a super electro-magnetic pulse weapon that takes down our power grid, or a massive financial collapse that locks credit markets and makes resupply of essentials like food, medicine and gas impossible.
All of these events and numerous others like them, though unlikely, remain a plausible and serious threat to our way of life because they are capable of literally sending us back into the middle ages overnight.
Should such a scenario ever become reality, then guess who'll be coming over looking to take your supplies?
Here's a hint. They've been lining up in droves at local super markets and clearing shelves all over the North East as a massive snowstorm approaches: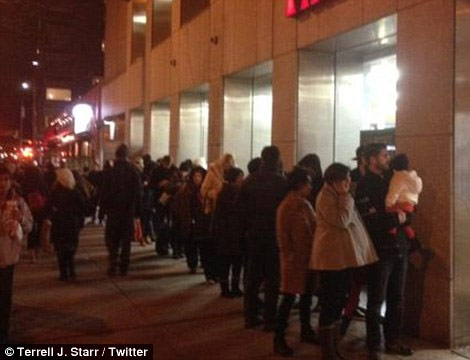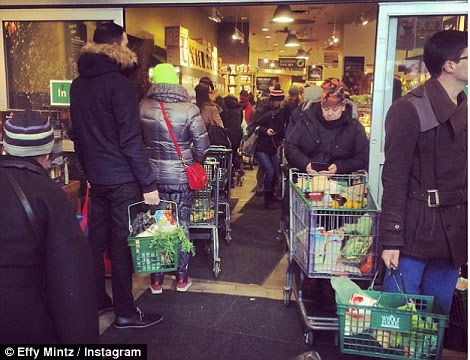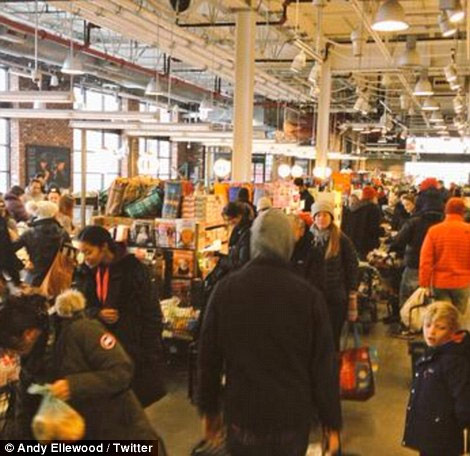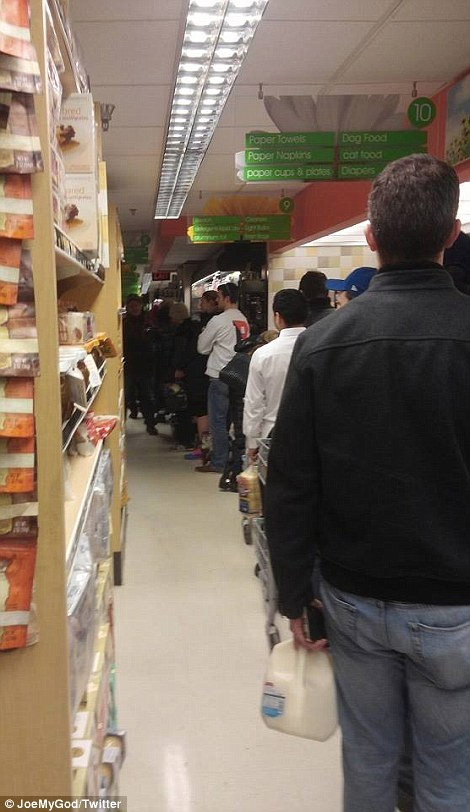 Store shelves are cleared within hours of people realizing that a disaster is in progress: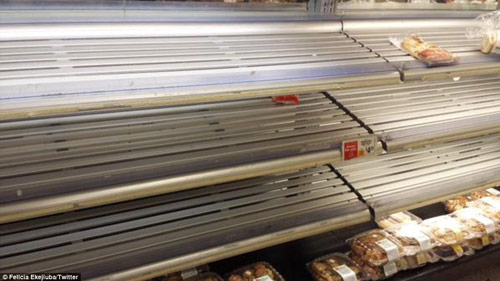 We know what you're thinking, "it's just a snow storm." And you're right. These short-term events are nothing to really worry about. Even if you got to a grocery store late and couldn't get food or fresh water you can still go over to a friend's house or perhaps knock on your neighbor's door for some food to get you by.
But should the disaster facing the population be something more severe, when people have realized that no re-supply is coming because our just-in-time transportation system has shut down, then you can fully expect that frantic knocks on peoples' doors will be ignored.
Then what?
The answer is simple. As The Prepper's Blueprint author Tess Pennington notes in Anatomy of a Breakdown, you can expect widespread societal breakdown within 72 hours:
Have you ever heard the saying, "We're three days away from anarchy?" 

In the wake of a disaster, that's all you have is three days to turn the crazy train around before crime, looting and chaos ensue.

…

Multiple factors contribute to societal breakdowns including failure of adequate government response, population density, citizens taking advantage of the grid being down and overwhelmed emergency response teams.

For whatever reason, 3-5 days following a disaster is the bewitching hour. During this short amount of time, the population slowly becomes a powder keg full of angry, desperate citizens. A good example is the chaos that ensued in New Orleans following the absence of action from the local government or a timely effective federal response in the aftermath of Hurricane Katrina. In such troubled times, people were forced to fend for themselves and their families, by any means necessary. This timeline of Hurricane Katrina effectively illustrates "the breakdown," and within three days, the citizens of New Orleans descended into anarchy, looting and murder
The majority of the looting, and certainly the despair, can easily be prevented with basic preparedness strategies that include managing your own food supply and stockpiling key supplies. In her free 52 Weeks to Preparedness web series Pennington outlines scores of essentials that you won't really know you need until you need them, including food supply lists, medical items, toiletries, alternative power sources, and home defense tools.
At the very least, every American should have a stockpile, even if just a couple of boxes that fit in your closet, containing the following:
Meals Ready To Eat – These are full course meals that pack a caloric wallop and will suffice just fine for a period of two weeks or more. They are compact and easy to store, and given their relative low cost, are an excellent investment not just for emergencies in your home, but something to take hiking, camping or leave in your car in case you find yourself broken down in the middle of nowhere. High density emergency food bars are another option to diversify your reserves.
Water Reserves – Expect water utility companies to be out of operation as employees stay home to care for their families. This happens in almost every major disaster, meaning that you either better have effective water filtration and treatment supplies, or have reserve water packets.
Medicine – Basic first aid kits are an absolute must. A small cut can do serious damage over a two-week period when there is no doctor.
Toiletries – You'll want some reserve toilet paper, for obvious reasons. But also consider sanitation as a key preparedness strategy, because if your toilet doesn't flush then things will get ugly very quickly.
For an extensive list of preparedness considerations, supplies and strategies check out the free 52 Weeks To Preparedness web series.
At last count some 1% of Americans, roughly three out of our nation's 300-plus million people, have taken any steps to prepare. It's a sobering statistic to be sure, especially considering that the Department of Homeland Security has warned people to stockpile at least a two week supply of food and water rations just in case.
Most Americans, it seems, still think the government will be there to provide assistance when the worst happens. The problem, of course, is that despite the millions of meals-ready-to-eat they have stockpiled, they will not have the resources to deal with 300 million desperate people.
The following statement from one San Francisco resident hit by last year's West Coast storm pretty much sums it all up:
"I couldn't get my car out of the garage, I have no food, I have no cash, so I'm trying to forage for something."
After the 72-hour mark this individual and others like him will have no choice but to go out "foraging" for food. They'll likely be armed, operating in groups and they'll be going door-to-door.
Related Reading:
Beware: Ex Military Soldier's Survival Plan Is "To Hit Preppers"
How Horrific Will It Be For The Non Prepper?