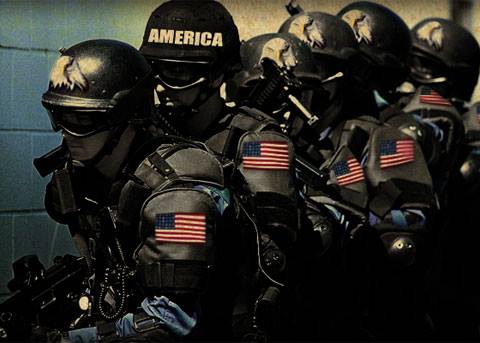 Michael Brown. Eric Garner. Tamir Rice. And who could forget? Trayvon Martin.
It's no secret that the likes of Attorney General Eric Holder, his replacement Loretta Lynch, President Obama and Al Sharpton have been dwelling upon these cases, while others with similar dimensions and often more tragic circumstances remain ignored. Scores of members in Congress joined in the chorus as well.
But why are they driving these cases at all? These are not altruistic players. What is their agenda?
In the wake of the chaos of riots and the mass movement of protests taking over cities across the nation, a clearer picture is beginning to emerge.
All the justified anger over police abuse isn't brewing more justice, but more power for the federal government.
Let's rewind…
Police abuse has become so epidemic that the streets are filling with protests against its most publicized cases.
Yet, who gave police the tanks, weapons and military equipment of war? The Pentagon, under its surplus program.
Who trained police to regard every individual as a potential terrorist in America? Homeland Security and the FBI issued the definitions, wrote the propaganda, put out the memos and conducted the training exercises.
Who funded police to increase arrests and fill the jails with non-violent offenders? Washington and their federal grants, that's who. It's what paid off local police departments to do so.
The Justice Department and Washington want more control over local police forces, and may be building a national police force as well. They are trying to change things, once again, through a popular groundswell and a series of civil rights lawsuits.
The St. Louis Dispatch reported:
Spurred by the Ferguson, Missouri, shooting and other recent cases of deadly encounters involving police, Congress in its final hours of work for the year passed legislation requiring states to report deaths of people arrested or detained by police to the attorney general.

The measure requires states that receive federal aid for crime control, law enforcement assistance and other programs to report on a quarterly basis the death of anyone in police custody. It imposes penalties for states that don't comply.
Godfather Politics made the case for this data reporting legislation as a means to an end – to use evidence of systematic racism in police departments to, in turn, justify federal reform. Ultimately, the U.S. could even see a national police force using the leverage of federal aid money to establish control. Is that the dream that Martin Luther King, Jr. and other civil rights leaders had?:
And in typical fashion, this is how the feds always co-opt the states: money. One could just picture the feds saying, "You didn't actually think there would be no strings attached when you took our money, did you?"

Now to the untrained eye this may not seem like a big deal, but to the trained eye, or some would say, to the wacky conspiracy theorist that sees things that aren't there, this is indeed another step toward their goal.

[…]
All we want to do is compile some data, crunch some numbers, that's all. It's not like this data would ever show us tendencies toward racism. That's not what we're actively looking for as an excuse for the Justice Department's civil rights division to sue you into submission. No, we'll let you decide the outcome of the inevitable civil rights lawsuit against your city's police department.

[…]
Those behind this scheme must maintain this level of hatred toward local police to achieve their goal.

Everything else has been nationalized, so why not the police?

This national police force can't happen all at once. No one would ever accept that. Like all leftist ideas, it must be incremental and opportunist. The architects, whoever they are, must be prepared to react when a "good crisis" arises so as not to waste the opportunity. Opportunities like Michael Brown, Eric Gardner, and Tamir Rice.
A National Police Force? Before that becomes a visible, oppressive uniformed SS force imposed across the country (perhaps it will someday), it will rear its ugly head from the inside-out, using more federal money to address the problem-reaction-solution at hand, using federal policy to establish federal control over police.
The trend is already underway, and with dangerous consequences. Consider what has already happened under Clinton's crime bill and Bush's PATRIOT Act…
President Clinton instituted a sweeping federal initiative to reform police, famously pledging to put an additional 100,000 police on the streets by 2000 through COPS, the Community Oriented Policing Services launched in 1994.
In theory, it addressed some of the same problems that Obama, Holder and the Ferguson case are attempting to address. Following the 1991 Rodney King beating and subsequent riots, the Justice Department began to use "pattern or practice" lawsuits against police departments. Only a few short years later, the COPS program used federal dollars and the guise of "community policing" to grant huge "gifts" to thousands of police departments, and with it, strings attached.
And with it, a backlash of the surface intentions of the program:
Many departments that have gotten large amounts of money from COPS, such as New York and Chicago, have been plagued with persistent complaints of excessive force against suspects—the opposite of what community policing promises.
At best, the COPS program was a misguided solution to crime. As Slate pointed out, violent crime peaked in 1994, just when COPS was introduced, and murder was already falling by 1991:
A 1999 investigation by the Chicago Tribune that looked at the nation's 50 largest police departments found "no correlation between the growth in the number of officers and crimes rates since 1993."
But, of course, centralized power was the real agenda.
The Heritage Foundation pointed out the unconstitutional concentration of federal power under the COPS program, seriously infringing upon the separation of powers framed in the Constitution:
Federal grant programs that fund the routine, day-to-day functions of state and local law enforcement are of questionable constitutionality. When Congress subsidizes local law enforcement in this manner, it effectively reassigns to the federal government the powers and responsibilities that fall squarely within the… constitutional authority of state and local governments… the federal government was never understood to have a general police power.
Reuters just published a report warning of the "unintended consequences" of the Justice Department "fixing" what is wrong with Ferguson and the other cases:
In the aftermath of the deaths of Michael Brown in Ferguson, Missouri, and Eric Garner in Staten Island, New York, protesters across the nation are looking to Washington for action and answers.
While arguing that the federal government "can and should" influence changes in criminal justice policy, Reuters also points out the drastic damage that has already been done:
One piece of federal legislation, the 1994 crime bill, has played a pivotal role in the incarceration epidemic. The law, which was designed to reduce crime, gave states $9 billion to pass laws that would increase time spent behind bars.

The result, however, was an explosion in state prison populations that has made the United States the world's largest jailor. The United States has 5 percent of the world's population, but 25 percent of its prisoners. This has immense fiscal, economic and social consequences — each prisoner costs taxpayers, on average, $30,000 a year, and inmates with criminal records, even for minor offenses, face significant challenges re-entering society. The racial disparities are also vast. One in three black men can expect to spend time behind bars.

Today, the federal government annually sends states and cities more than $4 billion… What the federal government chooses to fund, however, creates incentives for local police. For example, Washington's funding priorities have supported mass incarceration by concentrating on the number of arrests and seizures police make, rather than tabulating the number of offenders diverted to mental health or drug treatment programs.
The federal government would indeed love to establish a viable national police force.
The feds are now, with the left hand, scolding police for their shameful examples of excessive force and civil rights violations while, with the right hand, giving local departments new toys, "gift money" and ideology to regard average citizens as mortal enemies and potential terrorists.
Some form of a national police is underway, and it doesn't look pretty.
In steps towards that end, the feds have drastically increased their "joint efforts" and "shared visions" with local and state police in the wake of 9/11 and the creation of Homeland Security as the overarching umbrella organization. Expensive and technological advanced Fusion Centers have been set up across the country to share information up and down the chains of command and across jurisdiction, allowing local, as well as private, police to use federal data not only to track criminals, but to profile individuals before they become suspects and without warrants – including political activists and community groups.
More recently, the use of "sting ray" technology and other forms of extrajudicial cell phone data collection has been used controversially by local police and other entities – and these new toys have been given to departments by the FBI, under the Justice Department, with the condition of oversight and training by the feds.
A Justice Department presentation on COPS identified how increasingly, the approximately 18,000 local police departments are entering into private-public partnerships with the more than 2 million private security/police forces and the 90,000 federal law enforcement officials in a "shared vision" that includes plenty of shared data and power.