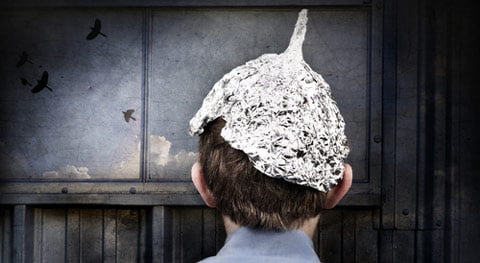 Jason Glicker is a substitute teacher at Grosse Pointe North High School in Detroit, MI.
He recently had a discussion with his students about various topics that include September 11th, World War II, and false flag terror attacks. What makes Mr. Glicker's approach a bit different from anything his students have ever heard before is that he doesn't exactly subscribe to the "official" stories surrounding these historical events.
Rather than following textbook curriculum, Glicker chose to share some alternative ideas. One of his students happened to capture it all on video and share it on the internet. Now, parents and mainstream media outlets are up in arms, because according to them, his theories are a bit "bizarre."
Substitute teacher taped spouting BIZARRE conspiracy theories in high school physics class

A student at a public, taxpayer-funded high school in Michigan has clandestinely filmed a substitute teacher preaching crazy conspiracy theories in front of a high school physics class last month.
Note that The Daily Caller takes special care to let you know that this is a "public" and "taxpayer" funded institution. We're not exactly sure why that's important, but apparently if taxpayers are paying for it, then there can be no open discourse or theoretical discussions about any topic except for what the government and teachers' unions authorize.
The "crazy conspiracy" theories that can be heard on the video include suggestions that 9-11 may have involved members of Pakistani intelligence services who were funded by the CIA and brainwashing of the terrorists involved. Glicker also went so far as to suggest that President Roosevelt and members of the military had foreknowledge of an impending Japanese attack on Pearl Harbor, something that has actually been verified by countless independent sources and recently made into a documentary by the BBC. He also mentioned that governments are often complicit in attacks that are seemingly executed by the enemy, though are often funded or organized by the very people who then point fingers at others. It's another "conspiracy theory" validated by decades of facts including the Reichstag fire that gave the Nazis a leg up in Germany and the completely staged Gulf of Tonkin incident cited as the start of the Vietnam war.
Other topics discussed include the crazy notion that the United States sold guns to Mexican drug cartels in something called Operation Fast and Furious, as well as the Iran/Contra affair in which agents of the U.S. government facilitated the sale of weapons to Iran.
Here's video of the "incident":
(Video via The Daily Sheeple)
The student who recorded the video was later quoted as saying, "it is inappropriate for him [Glicker] to indoctrinate students without facts or logical discussion, especially in a physics class." It is, however, apparently appropriate for this Mensa candidate to have his cell phone on and recording during physics class. We're sure this particular social networking butterfly would prefer to spend his time working advanced theoretical equations that he can then post on his Facebook page or Youtube channel for all the world to see.
Of course, the "facts" in all of the aforementioned events are not only disputed, but logical discussions about them are widely available all over the internet, something this particular student could have easily accessed on the very cell phone with which he recorded the lecture.
"I like it when kids are engaged and they're actually interested if I have something to say, they seem like they want to hear it. I will definitely tell them," said Glicker when asked about his non-traditional  method of teaching.
The real indoctrination, at least for the student who caught this on video, has been successfully fulfilled and he can now join the ranks of his fellow police statists currently being educated throughout America.
It's shameful, but unfortunately a sign of our times, that anyone who questions the status quo and the official story is subjected to public ridicule by the very people who are supposed to investigate and keep our government in check.
Had anyone in the mainstream media, or the student who made the video, taken just a single hour to open their minds to other possibilities they would have learned that most of Glicker's theories have, if nothing else, at least some semblance of fact and credibility.
Of course, this is the new America, where free thought and open discussion are relics of a bygone era.
Hattip The Organic Prepper