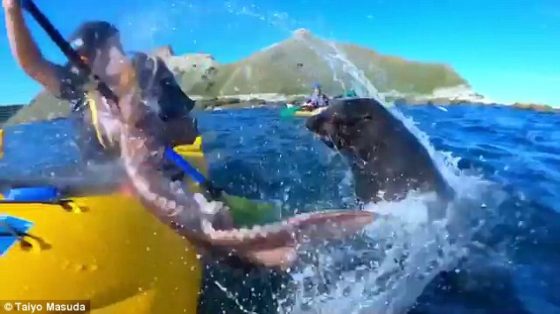 An incredible video is showing the moment a seal used an octopus to slap an unsuspecting kayaker. The video was captured by Taiyo Masuda at the incredible moment a fellow kayaker was hit in the face with a large octopus.
Kyle Mulinder, a self-described "GoPro content creator," was having a chill time kayaking off the coast of Kaikoura, New Zealand, according to Mashable.  Then, a seal suddenly pops up out of nowhere with an octopus in its mouth, and slaps it against Mulinder's boat, while also accidentally slapping him in the face with its tentacles.
Taiyo Masuda, another GoPro videographer, managed to capture the entire scene as it unfolded quickly and posted it on his Instagram account. Thankfully, no one was seriously injured.
In an interview with Yahoo 7 Australia, Mulinder explains that the group was well aware of the fight between the seal and the octopus before he got a face full of tentacles. Apparently, the octopus and the seal had been struggling for a quite some time when both briefly disappeared deep beneath the surface. They then reappeared again when the seal decided to throw the octopus at Mulinder's kayak.
"He thrashed it in mid-fight and my face happened to be in the wrong place at the wrong time," Mulinder told Yahoo 7 Australia. "I was like 'mate, what just happened?' It was weird because it happened so fast but I could feel all the hard parts of the octopus on my face like 'dum dum dum.'"
The octopus clung onto kayak after being thrown by the seal. Mulinder was finally able to get it off with the help of his instructor. According to Mulinder, the octopus was fine after the whole ordeal and was placed safely back in the water. There's been no word on how the seal is doing, but considering it was the one throwing around a large octopus, it's probably just fine.