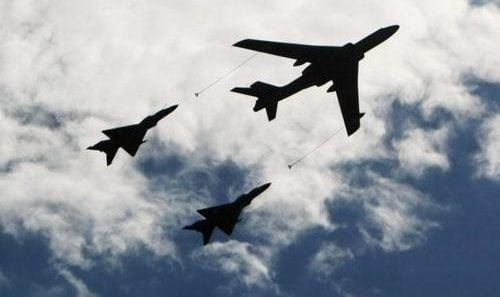 The war escalation is continuing. North Atlantic Treaty Organization (NATO) and the Pentagon have deployed more troops and naval aircraft. This is said to be done to "bolster" NATO's Eastern flank.
According to a report by Axios, NATO leaders committed at a summit in Brussels last week to "significantly strengthen" the alliance's long-term force posture in response to Russia's invasion of Ukraine, including through major new troop deployments in the east. The aircraft heading to Germany specializes in electronic warfare and jamming sensors, but will not be used against Russian forces in Ukraine, Pentagon press secretary John Kirby announced Monday.
Russia Claims The "Right" To Use Nuclear Weapons In Ukraine
The United States now has more than 100,000 troops in Europe for the first time since 2005. The aircraft "are being deployed completely in keeping with our efforts to bolster NATO's deterrence and defense capabilities along that eastern flank. They are not being sent because of some sort of acute threat that was perceived or some specific incident that happened," Kirby told reporters.
The ruling class continues to insist that Joe Biden has a commitment not to send U.S. troops to fight Russia directly in the besieged country. Instead, they will fly missions to act as a deterrent to keep Russia from attacking NATO countries, Kirby said.  Either way, anything is likely to be seen as a provocation by the ruling class of Russia.
These aircraft are said to be deployed only "temporarily", yet there is no date for their return.
As many have already noted, truth is the first casualty of any war. So use your own discernment and judgment when reading anything. No ruling class should be trusted and there is no "side" to take other than the side of humanity and the innocent people who will have to suffer if the rulers continue to escalate this conflict.