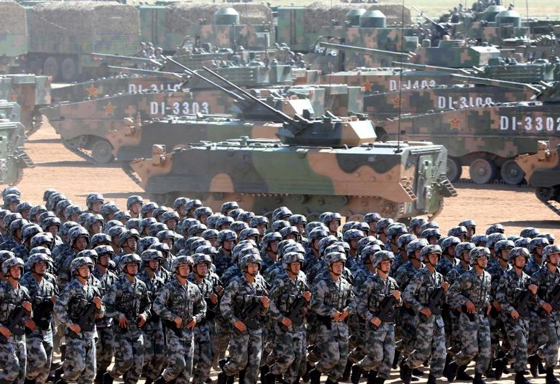 China's People's Liberation Army is ripe with "peace disease," according to the official propaganda newspaper in China. The country has said that even more efforts to kill the "disease" will be stepped up in order to address a lack of battle-readiness and anti-graft measures.
"Peace disease has been a common symptom in our military for decades," the PLA Daily editorial read as reported by Business Insider. "If we do not make up our mind to eliminate those evils, we must pay a heavy cost in the event of a war." It continued: "We can only stop a war when we are able to fight."
China's rapid military modernization efforts have been revealed by leaked internal documents, which indicate Beijing intends to increase its military presence offshore to protect the country's national interests.  But, the documents also say that the Communist regime is planning for the inevitable: an "unavoidable" war with the United States. The secret memo even warns about Thucydides Trap, a term coined by Harvard's Graham Allison, is the notion that when an emerging power [China] challenges the well-established leader [US] of the international order, there is a high probability of a war.
[The memo] also makes clear, "The lessons of history teach us that strong military might is important for a country to grow from being big to being strong. A strong military is a way to circumvent the 'Thucydides Trap' and escape the obsession that war is unavoidable between an emerging power and a ruling hegemony." –Stock Board Asset
Business Insider reported that Chinese President Xi Jinping has ordered the military to boost its combat-readiness in response to concerns that officers lack the required competence after having not engaged in a battle for decades. Xi has launched reforms including downsizing the army and placing greater emphasis on training.
Xi, who is now the Chinese president for life (thanks to his own fascist decree), has ordered the PLA to be transformed into a world-class fighting force in the next three decades. Could there be a need to prepare for a war? It certainly seems like it especially considering the secret memo also said that should the Chinese military modernization efforts continue, it could very well lead to "escalating friction with neighboring countries", including Japan and Taiwan, in the East and South China Seas.
In this war scenario, all bets are off.
If you haven't yet prepared critical emergency supplies like food, water, and self-defense tools, now is a good time to get it done. Moreover, while we shudder to think that a  nuclear exchange is even possible in today's sophisticated world, you never really know what the government's claiming the right to play with our lives have in store for us.  That's why we recommend considering emergency equipment like CBRN (Chemical, Biological, Radiological, Nuclear) rated gas masks, NBC filters, anti-radiation nuke pills, and protective body suits. Should you have to shelter in place during a nuclear emergency or evacuate your city in the midst of an attack, these supplies could mean the difference between life and death.