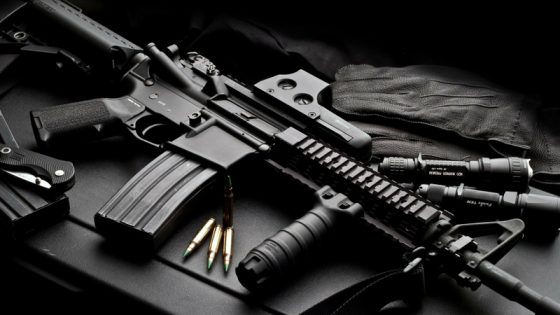 In recent years it's become increasingly difficult for ordinary Americans to ignore the fact that their local police departments are becoming militarized. Just a couple generations ago, the police were armed with pretty much the same weapons that civilians could own. They drove vehicles that, without decals and sirens, wouldn't be out of place at an ordinary car dealership. They wore uniforms that were comparable to clothes worn by other civilian government employees. Now they carry assault rifles, drive armored vehicles, and on occasion they wear camouflage. They look and sometimes act, just like soldiers in a warzone.
So what made our police departments so militarized? You can partly blame the Pentagon's 1033 program, which was implemented by the National Defense Authorization Act of 1997. The program allows the Defense Logistics Agency to loan military grade weapons, equipment, and vehicles to local police departments, thus allowing them to transform into paramilitary squads on a shoe string budget.
Among the many controversial issues with this program, is just how easy it is for police departments to receive this gear. In fact, it's so easy that you don't even really need to represent a law enforcement agency to participate in the program. Legally you do, but not practically.
That's because the Defense Logistics Agency doesn't vet the organizations who ask for this gear at all.
That's according to a new Government Accountability Office report. The government auditing agency created a fake website of a fake police department and applied for the surplus goods. The fake agency was handed $1.2 million in weapons, including night-vision goggles, simulated rifles, and simulated pipe bombs. The simulated rifles and pipe bombs could have been turned into "potentially lethal items if modified with commercially available items," according to the report. Simulated weapons are used for training purposes.

The GAO even used a fake physical address—a dirt lot—for the fake law enforcement agency. According to Zina Merritt, a GAO director who coordinated the investigation, this sting operation of sorts found that the DLA did little to verify who was requesting the military leftovers and who was actually picking up the gear.
According to the GAO, the Defense Logistics Agency was ready to deliver these weapons, despite the fact that they never called the fake police agency to confirm any information, never visited the delivery location, and never asked for any identification. And to top it all off, the GAO received more items than they requested.
The great irony in all of this, is that other government agencies take great care to ensure that you, a law abiding civilian, can't obtain military weapons. The process for buying a fully automatic firearm is insanely expensive and prohibitive. To obtain any other kind of military weapon is no walk in the park either, or is otherwise completely illegal.
And yet, under different circumstances, our incompetent government will hand out millions of dollars worth of weaponry like it's candy. The next time someone suggests to you that there are certain weapons which can only be trusted in the hands of government defense agencies, you can remind them that their notion is provably false.